Over 30 killed, dozens injured as car bomb blasts rock Baghdad (PHOTOS, VIDEO)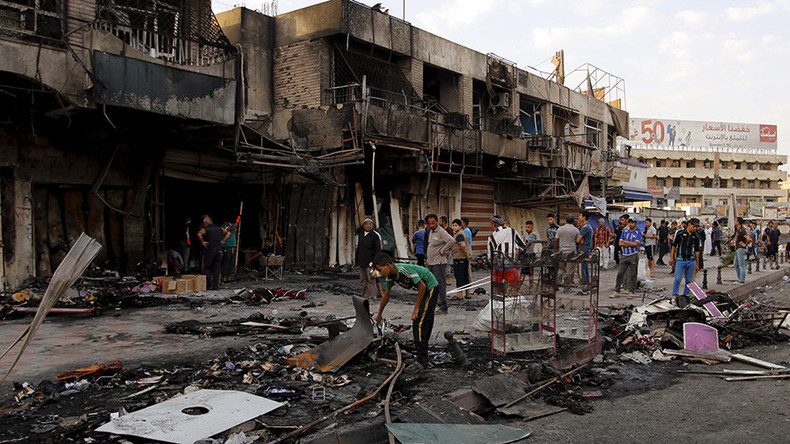 Two separate blasts have ripped through Iraq's capital, killing at least 31 people and injuring over 70, according to local police. Both Islamic State- claimed attacks come as Iraqi forces struggle to force the militants out of Fallujah, west of Baghdad.
The first and the deadliest blast was reported in Al-Jidida, an eastern district of Baghdad, on Wednesday morning. A commercial street which is a majority Shiite neighborhood was targeted by a car bomb, Reuters reports.
At least 19 civilians were killed and 46 wounded there, AP reported citing police and medical officials.
The second blast hit near a military checkpoint to the capital's north, in the town of Taji. At least 12 people, seven civilians and five troops among them, were killed in the attack. At least 32 people were wounded there, a police officer told AP.
Pictures and footage posted online reveal a huge column of black smoke billowing over the area.
On May 17, a string of bombings inside and outside the Iraqi capital as well as in Sadr City took the lives of over 70 people. Responsibility for the attacks was claimed by Islamic State (IS, formerly ISIS/ISIL) militants.
Islamic State has been using Iraqi city residents as human shields to stall the Iraqi Army, which has almost surrounded Fallujah. The city is strategically important due to its proximity to the capital, Baghdad. The UN estimated that prior to the government counter-offensive, commenced on May 22, there were about 50,000 civilians in Fallujah. Refugee NGOs say that only 18,000 of those have reached their camps.
READ MORE: Over 70 killed in triple Baghdad bombings, more than 140 injured
Fallujah has been under IS control since January 2014. Last month, the Pentagon said the radical Islamist group had lost 45 percent of its gains in Iraq, and a fifth of its territory in Syria. An attack on the city of Mosul is likely to be the next big target for the government, and its international coalition backers.