Giant sinkhole opens up near Canada's parliament in central Ottawa (VIDEO)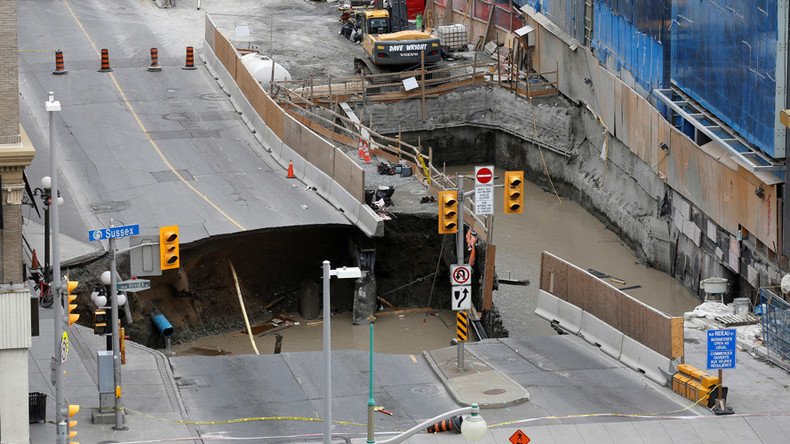 Authorities in the Canadian capital of Ottawa were forced to evacuate a mall and surrounding buildings just 500 meters from the national parliament after a gigantic sinkhole opened up in the city's downtown core. No injuries have been reported.
The giant hole, measuring from sidewalk to sidewalk opened up on Wednesday around 10:30 a.m. forcing city authorities to cut power and evacuate businesses a few blocks from Canada's Parliamentary Precinct as people reported smelling a gas leak and water gushing from the sinkhole.
Rideau Mall, the Westin Ottawa, the Shaw Centre Convention Centre and a bookstore were among the buildings evacuated. Police are warning people to avoid the area at Rideau Street and Sussex Drive, as authorities closed the area to all traffic. The incident also halted construction on a nearby light rail transit station.
"We're making sure that public safety is our key factor here... We recommend for people to stay outside of the area until further notice," local city councillor Mathieu Fleury told CBC.
Ottawa Mayor Jim Watson told reporters after an emergency meeting that the cause of the sinkhole was so far unclear.
READ MORE: Watch how giant sinkhole swallows four cars in China (VIDEO)
"We hope to have that answer, obviously, in the next few days," Watson told media. "We just don't know how long it's going to take... it's a significant sinkhole in the downtown core."
Social media users were quick to react to the latest Canadian sinkhole, posting memes of fictional characters emerging from the sinkhole.
You can share this story on social media: