Beijing demands end to surveillance after US slams 'unsafe' spy plane intercept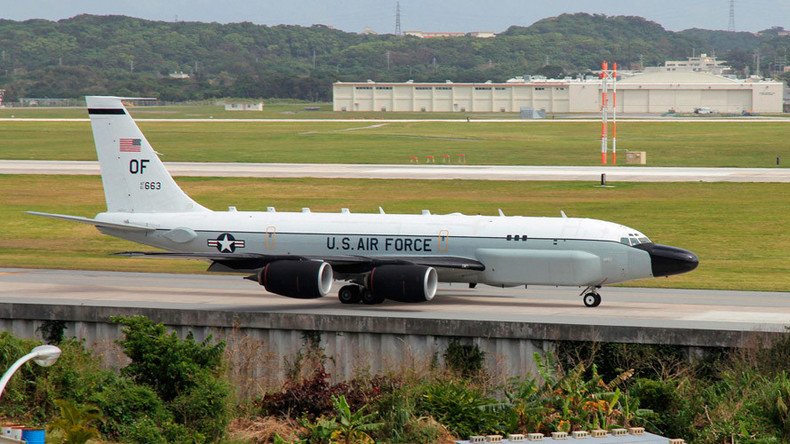 A US spy plane has been intercepted by a Chinese fighter jet over the East China Sea during Secretary of State John Kerry's visit to Beijing. It is the second incident involving US surveillance aircraft over the Chinese-claimed space in less than a month.
A Chinese J-10 fighter plane intercepted a US Air Force RC-135 reconnaissance aircraft during a "routine mission" over the East China Sea in an "unsafe" manner, two American defense officials told Reuters on Tuesday.
The officials claimed that Washington was alarmed by the Chinese fighter's "excessive rate of closure" on the US aircraft – meaning it approached too fast. According to CNN sources, the Chinese jet did not fly closer than 100ft to the US spy plane while it was on the mission.
Beijing insisted its fighter jet kept a safe distance and avoided making dangerous maneuvers, and demanded that Washington stop reconnaissance flights next to Chinese airspace.
"The United States continues close reconnaissance activity, which significantly undermines China's security at sea. This is what causes the problem. We urge the United States to stop this activity and prevent such incidents in the future," Chinese Foreign Ministry spokesman Hong Lei told journalists at a briefing on Wednesday. China remains within its rights to take self-defense measures, Hong stressed.
The encounter took place as US Secretary of State John Kerry was visiting the Chinese capital to discuss trade deals and regional stability.
On Sunday, Kerry warned that Washington would consider any Chinese establishment of an air defense zone over the South China Sea to be a "provocative and destabilizing act."
However, he then told the US-China Strategic and Economic Dialogue in Beijing: "Let's not resolve this by unilateral action; let's resolve this through rule of law, through diplomacy, through negotiation. And we urge all nations to find a diplomatic solution, rooted in international standards and rule of law."
"China has every right to uphold its territorial sovereignty and lawful and legitimate maritime entitlements," State Councilor Yang Jiechi responded on Tuesday. "China consistently upholds and respects the freedom of navigation and overflight enjoyed by all countries under international law."
Just last month, two Chinese fighters intercepted an EP-3 Aries signals reconnaissance aircraft over the South China Sea. The Pentagon said that May's intercept violated an agreement the two governments signed last year that established rules of behavior to govern midair encounters.
China has claimed most of the South China Sea, disputing the bid with US allies – the Philippines, Vietnam, Malaysia, Taiwan and Brunei. China has also created artificial islands in the sea which host a militarized airfield.
While the South China Sea remains a separate dispute, Beijing also has conflicting sovereignty claims in the East China Sea with Japan over the control of the Senkaku/Daioyu islands.
You can share this story on social media: