Turkey sinks old Airbus jet, creating artificial reef to keep diving tourism afloat (VIDEO)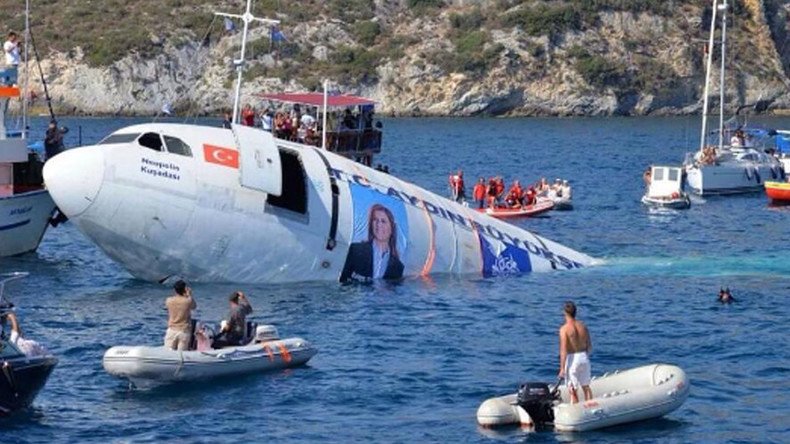 An Airbus A300 has been sunk and turned into an artificial reef off the coast of Kusadasi, a southwestern resort town in Turkey, while the country's once booming tourism industry struggles to keep afloat amid a sharp drop in visitors due to sanctions and terror fears.
The airplane was brought to the southwestern resort town of Kusadasi in Aydin province on five trucking rigs on Saturday, local media reported. The 54-meter-long Airbus, said to be the biggest plane ever to be turned into an artificial reef, was dismantled in Istanbul in a procedure that started in April.
Some parts of the aircraft were sunk using lifting cranes as heavy construction equipment controlled the process. Inflatable balloons were tied to the fuselage, while the whole body was brought down to a depth of 20 to 25 meters with the help of divers. The whole process took about two and a half hours.
"Our goal is to make Kuşadası a centre of diving tourism. Our goal is to protect the underwater life. And with these goals in mind, we have witnessed one of the biggest wrecks in the world," metropolitan Mayor Ozlem Cercioglu said, adding that he hoped that the creation of the new diving spot will be a big step towards rebooting tourism in the region.
Turkey's tourism industry has seen a sharp decline since last year. Tourism is, and always has been, the lifeblood of Turkey's economy, accounting for more than four percent of the country's GDP and employing more than a million registered workers.
Revenue from tourism fell 14.3 percent in the final quarter of last year. Bookings for this summer have plunged by 40 percent, while hotel occupancy rates have dropped by more than 50 percent since 2015, the Wall Street Journal reported, citing industry figures. According to the media, hundreds of hotels, bed-and-breakfasts, and boutique resorts have been put up for sale.
The number of Russian tourists plunged 81 percent in January compared with the same month the year before. Turkey has always been a main tourist destination for Russians, but things changed drastically after a Russian bomber was downed by Turkey last November. Moscow imposed economic sanctions on Ankara in response, banning charter flights and the sale of package holidays to the country.
A series of terrorist attacks targeting tourist areas also seems to have scared off visitors. A suicide bombing hit the main shopping street in central Istanbul in March, killing at least five people and injuring 36 others. Twelve of the injured were foreigners. That bombing followed a grenade-and-gun attack that had been carried out just two weeks earlier by two female terrorists in Ankara, Turkey's capital.
The US, the UK, Russia, Israel, and other countries have issued warnings to their citizens advising them to leave or refrain from visiting Turkey citing the increasingly high security risks.
You can share this story on social media: