Pope Francis vows to remove pedophile cover-up bishops with new church law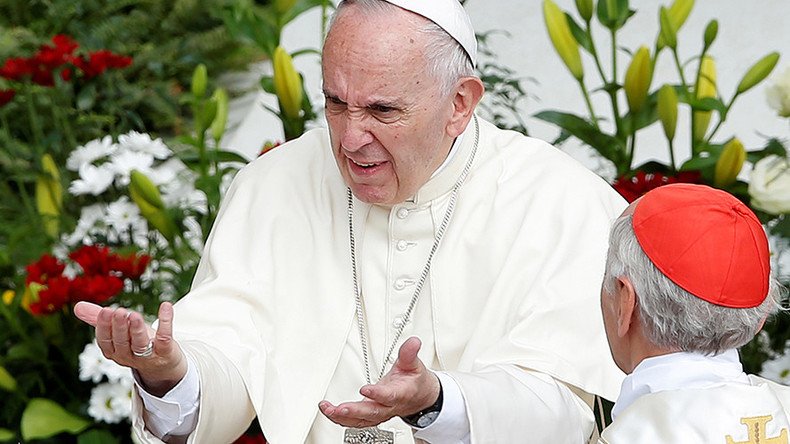 Bishops who cover up pedophile priests can be removed from office, Pope Francis announced on Saturday under new church laws.
The move comes amid controversy surrounding the Catholic Church scandal of widespread sexual abuse against hundreds of victims, who have been accusing the Vatican of failing to hold pedophile priests accountable.
Victims of abuse accused bishops of moving priests to a different parish, rather than taking action to report them to the police or church authorities.
Pope Francis maintained that present church laws already allowed for bishops to be removed from their roles for negligent behavior, but said he wanted the "grave reasons" to be more accurately defined, according to the Guardian.
While the pontiff's announcement has been seen as progress against ongoing scandals surrounding the church, Pope Francis recently defended French Cardinal Philippe Barbarin, the archbishop of Lyon, who has been accused of covering up abuse carried out by Bernard Preynat, a priest in the diocese that was charged with sexually abusing boys.
READ MORE: Scandal in Polish Catholic Church
Barbarin traveled to the Vatican last month for a private meeting with the Pope and continued to deny any wrongdoing as the case goes on.
"Based on the information that I have, I believe that Cardinal Barbarin in Lyon took the necessary measures and that he has matters under control," Pope Francis told Catholic newspaper La Croix at the time.
Whether or not the latest announcement will be seen as all talk no action, will be tested next week when the pontiff will choose whether to allow his current financial chief, Cardinal George Pell, to remain in his position despite Pell being accused of covering up a long-standing abuse scandal in Australia.
British abuse survivor Peter Saunders said the Pope has been more vocal about sexual abuse in the church, but criticized the ongoing cover ups of other incidents.
Pope Francis met victims of Catholic church sex abuse during a visit to the US last year and vowed to clamp down on the widespread problem.
Ongoing scandals have reportedly cost the US Catholic church $4 billion in settlements over the past 65 years, according to a report by National Catholic Reporter.
You can share this story on social media: