At least 82 injured as lightning strikes Rock am Ring festival in Germany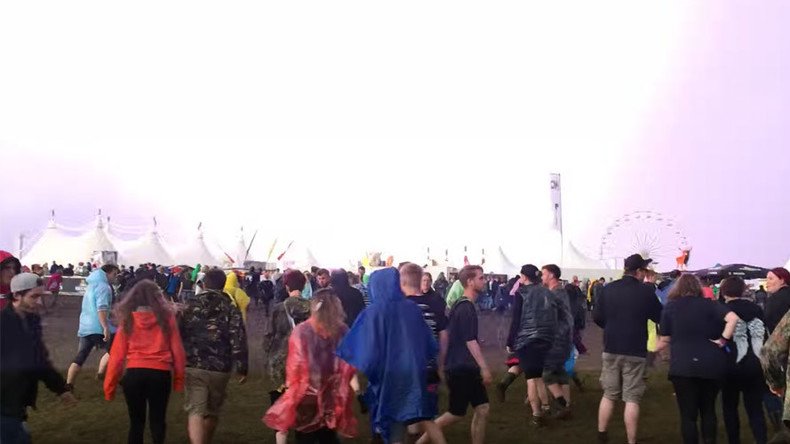 Dozens of festival-goers were left injured and at least 15 hospitalized at the world-famous Rock am Ring music festival near Frankfurt, Germany, after a bolt of lightning struck the crowd.
Lightning storms and bad weather have been threatening the entire continent, with the festival near Mendig, in Rheinland-Pfalz, the latest target. At least 71 people were injured by the lightning, according to Deutsche Welle, with the festival issuing a tweet.
The festival was interrupted for about half an hour on Friday, as rock and metal fans were told to seek shelter in their tents and steer clear of the stage. At least 15 people, however, have received serious injuries and had to be taken to hospitals, as of early Saturday. The police also told the AP two people had to be resuscitated on site.
The rest of the three-day event is going on as planned, and the organizers said any rumors of a cancellation were untrue.
The event draws about 90,000 people at any given day on the field, and features such heavyweights as Red Hot Chili Peppers, Black Sabbath, Tenacious D and Disturbed this year.
READ MORE: Wrath of skies: Series of lightning strikes kill 1, injure dozens across Europe
This is the second straight year that strong thunderstorms pummeled the festival. According to organizers and the festival's Facebook page, more storms are due to sweep over the festival grounds on Saturday and Sunday. Last year, 33 people were hurt after two lightning bolts struck.
At least 14 people have suffered across Europe in the past week, including also in France, Belgium and Romania, because of torrential rains. Over in France, some 20,000 people had to be moved in the last week due to floods. The French capital got it pretty bad too, with the Louvre and Orsay museum shut as flood levels climbed above 6m (18ft).
You can share this story on social media: