Wrath of skies: Series of lightning strikes kill 1, injure dozens across Europe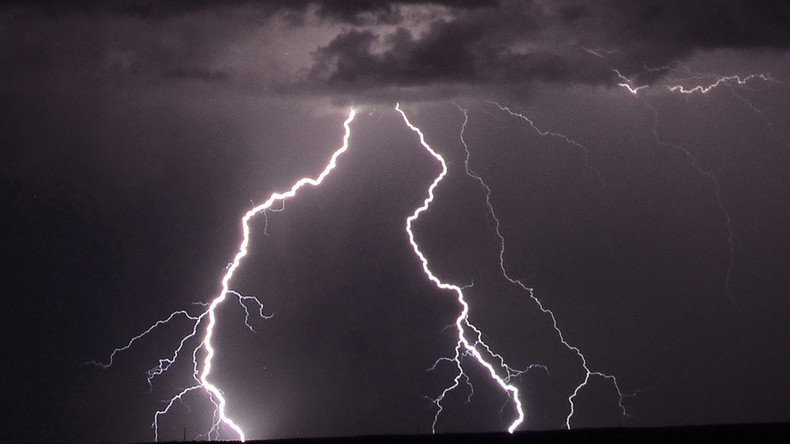 A series of lightning strikes have left a trail of human suffering across Europe, killing at least one and injuring dozens, as sky discharges hit France, Germany and Poland.
A man, in his forties, died in Babia Gora mountain in Poland when lighting struck his hiking trail, Polish news Agency PAP reports. Another three persons were struck by lightning in the vicinity Beskids Mountains, while a 61-year-old man drowned in floodwaters caused by the storm.
Tragedy also crept in on a birthday party at the Parc Monceau in the center of Paris where lightning injured at least 11 people. According to police, some of the victims, including children are being treated at the hospital with life-threatening injuries. Two remain in critical condition and five in serious.
The incident happened as group celebrated a birthday in a park located just a few blocks of the Champs-Élysées. When the storm began, they sought shelter under a tree, which was eventually struck. Bravery of an off-duty firefighter Pascal Gremillet, who strolled near the park, saved the lives of those injured as he rushed to help.
"I saw immediately that one of the children was in cardiac arrest, so I provided them with first aid," Gremillet told BFMTV.
According to Paris fire service spokesman Eric Moulin, nine of the 11 people laid unconscious when the firefighter discovered them under a tree. "Without his actions, it would have been much worse," Moulin noted.
In a third incident on Saturday, over 30 people were injured when lightning struck during a kids football match in the town of Hoppstaedten in the German state of Rhineland-Palatinate.
The lightning stricken the referee directly, right after the match had just ended. The 45-year-old man was resuscitated and transported by emergency helicopter to a hospital. Two other adults were also seriously injured and hospitalized, police said.
In addition to three adults, 29 children aged nine to eleven were transported to the hospital as a precautionary measure after suffering from irregular heartbeats. They are considered only to be slightly injured.
"There was no rain and no dark sky according to witnesses," the police spokesman said.
You can share this story on social media: