Poland plans 35,000-strong paramilitary force to deter 'Russian threat'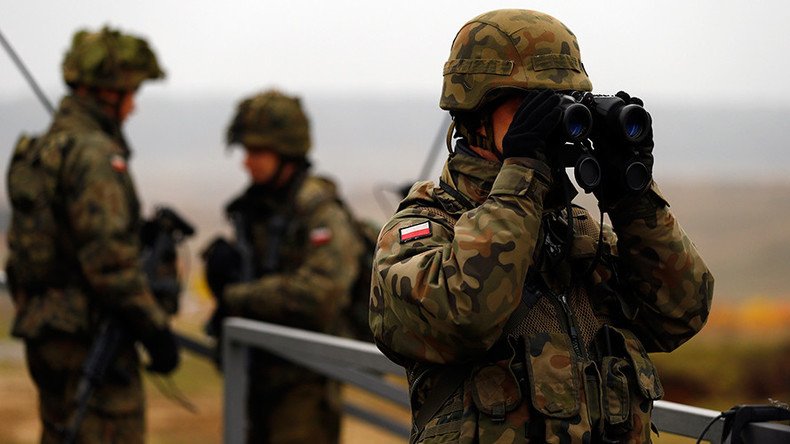 Paramilitary groups are to be formed in Poland to enhance its military capabilities as part of the preparations for a possible 'hybrid war' with Russia, the Defense Ministry said.
The plan is aimed at deterring Russia in its attempts to seize Polish territory "by infiltration," as Poland's authorities believe it has done in Eastern Ukraine, AFP reports.
"The territorial defense force is our response to the threat associated with hybrid warfare," said Polish Defense Ministry official Grzegorz Kwasniak, who is responsible for the creation of the new paramilitary group.
The new force will comprise 35,000 civilian volunteers that will undergo military training. Each Polish province will then receive one brigade of the territorial defense force, consisting of volunteer battalions, with the biggest and most populous Mazovia province getting two brigades.
The eastern Polish provinces of Podlachia, Lublin and Podkarpachie will have priority in deployment of the paramilitary units as they are deemed to be most exposed to the perceived Russian aggression.
"Enrollment of the first members of the territorial defense force will start in September," Polish Defense Minister Antoni Macierewicz said on Thursday at a conference of paramilitary organizations in the northern Polish town of Ostroda, AFP reports. He also said the group's command structure and senior appointments had already been decided in April, as reported by the Polish PAP news agency.
The personnel of the newly formed paramilitary units will receive a monthly payment amounting to 500 zlotys (€125), according to dpa.
Earlier, Macierewicz said that a single battalion of rotational NATO troops would be enough to help Warsaw's military to fend off a potential Russian attack on Polish territory until its allies gather their forces and respond.
His statement came after NATO Secretary General Jens Stoltenberg confirmed that additional troops will be stationed in Poland and the Baltic states after the upcoming NATO summit, which is to be held in Warsaw in July.
NATO currently plans to station four battalions in the region – one each in Poland, Lithuania, Estonia, and Latvia. In May, at a pre-ministerial press conference, Stoltenberg said the NATO military buildup on the territory of Eastern European countries is a response to "Russian aggression in Ukraine."
Meanwhile, Russia added NATO's expansion to the East and the buildup of the alliance's presence near Russian borders to the list of strategic threats in 2016.
"The Russian side has repeatedly stated that the buildup of the NATO military presence near Russian borders violates the spirit of the basic Russia-NATO pact and cannot be left unanswered by our country," Deputy Foreign Minister Aleksey Meshkov said in late May, adding that "we are bound to secure the safety of our state."
In the meantime, Poland already has a paramilitary group called "a riflemen's association" (Strzelec in Polish) comprised of around 12,000 people, many of them youngsters, who are receiving military training, as reported by AFP.
For the first time, Poland's paramilitary units will take part in the major Anaconda 2016 military exercise conducted by the US Army Europe on Polish territory from June 7 to 17.
According to the US Army Europe's official website, the drills are also designed to "support assurance and deterrence measures by demonstrating allied defense capabilities to deploy, mass and sustain combat power." The exercise will involve more than 25,000 soldiers from 24 nations.
Russia is planning its own set of measures aimed at counterbalancing NATO's increased presence and activities near its borders. These measures particularly involve deploying three new divisions in Russia's western and southern regions.
"The Defense Ministry is taking a number of measures to respond to the NATO military buildup at the Russian border," Russian Defense Minister Sergey Shoigu said in early May. "Before the year's end, two new divisions will be formed in the Western Military District and one in the Southern Military District."
"Our security interests are to be firmly protected. Deployment of the three divisions announced by the defense minister is only one of the measures, which should be considered in this regard," said Russia's envoy to NATO, Aleksandr Grushko.
You can share this story on social media: