One NATO battalion would help deter Russia until allies gather forces – Polish Def Min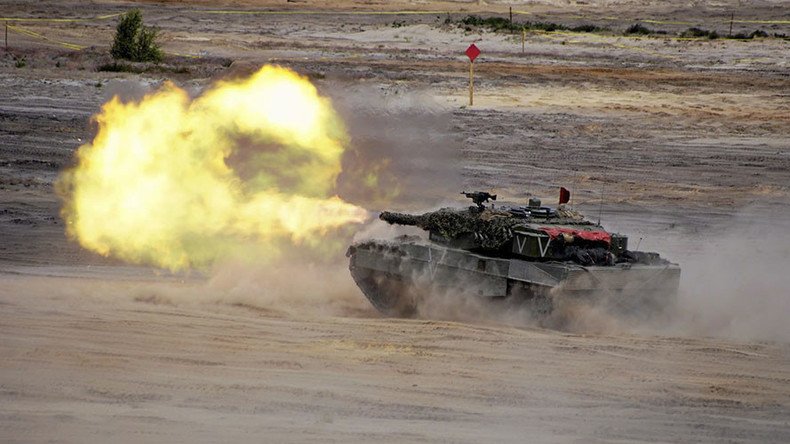 If Russia were to invade Poland, a single battalion of rotational NATO troops would be enough to help Warsaw's military to fend off the attack until allies had time to gather forces and respond, Polish Defense Minister Antoni Macierewicz said.
The statement comes after NATO Secretary General Jens Stoltenberg confirmed that additional troops from the Alliance are to be stationed in Poland and other Baltic states after the upcoming NATO summit, which is to be held in Warsaw in July.
"There will be more NATO troops in Poland after the Warsaw Summit, to send a clear signal that an attack on Poland will be considered an attack on the whole Alliance," Stoltenberg told reporters following his meeting with Polish President Andrzej Duda on Monday.
NATO currently plans to station four battalions in the region – one each in Poland, Lithuania, Estonia, and Latvia.
The Polish Defense Minister noted that a "battalion-plus" force is being discussed, though he admitted that the parties "have not defined what the 'plus' means" yet, or the actual number of troops that Poland would get, Defense News website reports. A typical US army battalion consists of up to 800 soldiers.
"These are just forward forces that are present, and together with the armies of the host countries should be able to stop the aggression for the time sufficient for the treaty to organize its structures and forces in order to defend its members," Macierewicz said.
He added that, in case of a conflict with Russia, there would be enough troops to defend Polish territory until other NATO member states could gather and come to the rescue.
Meanwhile, Estonian Prime Minister Taavi Roivas has arrived for a one-day visit in Poland, where he will meet with his Polish counterpart, Beata Szydlo, to discuss more ways to increase NATO's military presence in the region.
"The goal of both Estonia and Poland is to increase the presence of allied NATO forces in the region and finalize the plans approved at the NATO summit in Wales in 2014, namely reinforce the NATO airspace protection mission in the Baltic countries based in Amari, increase the number of military exercises, strengthen NATO rapid response task-force and US ground forces," the Estonian government's press-service stated, as reported by Interfax.
In another move to ramp up its strength in the region, the Alliance brought a missile defense base in Deveselu, Romania online in May, sparking a quick and caustic response from the Kremlin, with Russian President Vladimir Putin stressing that the development constitutes a threat to Russia's national security.
During his visit to Greece last week, Putin explained that Moscow has "no choice" but to target Romania now that it has a missile defense system literally directed at Russia. Poland will soon be in the same situation, as it plans to obtain a similar base within two years.
"If yesterday people simply did not know what it means to be in the crosshairs in those areas of Romania, then today we will be forced to carry out certain measures to ensure our security. And it will be the same with Poland," the President said.
Meanwhile, Russia's envoy to NATO, Aleksandr Grushko, said in an interview with Rossiyskaya Gazeta daily that NATO is creating the image of a major adversary solely to prove its relevance and continue its operations.
"The trend of a deterioration of relations has not yet exhausted itself... The Alliance continues a policy of 'suppressing' Russia, despite its calls for political dialogue. I do not want to call our relations with NATO 'a Cold War,' but the alliance is shifting to Cold War-era schemes of maintaining security.
"We see that the image of a major enemy is being used to solve... geopolitical objectives, namely to bring NATO back into the center of global politics and to try to prove that there is no way to maintain security other than strengthening 'NATO-centrism' and the strategic bond between Europe and the US.
That's why a major adversary is needed for the Alliance to oppose. NATO feels completely uncomfortable in the absence of a large opponent," Grushko told the news outlet.
You can share this story on social media: