Inter-ethnic brawl between 150 refugees at Samos camp in Greece leads to blaze and arrests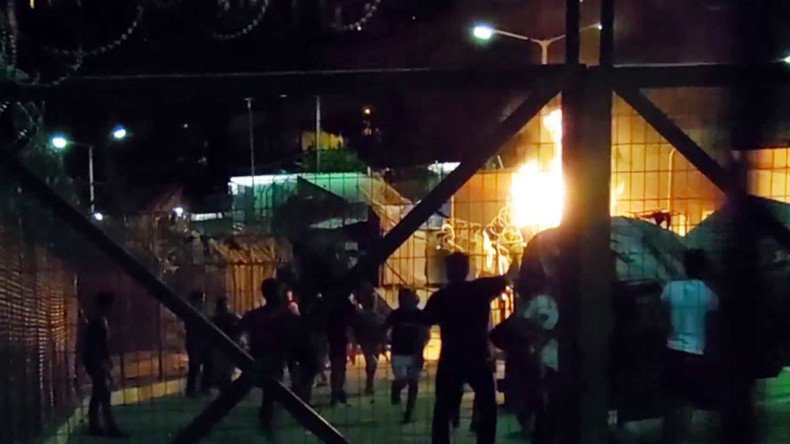 The Greek island of Samos has seen inter-ethnic clashes between groups of migrants break out at a detention camp, resulting in 25 arrests and six people injured, police said. The scuffles involved Afghan, Syrian and Pakistani migrants.
The camp on the Aegean Sea island currently contains 1,100 people, including families with children.
According to local police speaking to Kathimerini newspaper, clashes have broken out on Samos between rival ethnic groups. Two barracks were set on fire, leading to the police getting involved, followed by firefighters.
The people taken to the hospital at Samos were "a precaution," police told AFP.
"We're surprised because the atmosphere here is usually quite calm," said Dimitris Vouros, of the charity Metatarsi, who works at the camp.
The situation comes just one day after similar fighting broke out on the island of Lesvos, just north of Samos, which led to three participants hospitalized, 70 injured and 300 left without shelter after tents were set ablaze. The exact figures of injured are disputed there, but the number of evacuees was in the hundreds, AFP correspondents said.
Some 50,000 migrants are currently stranded in Greece, following the Balkan strategy to shut borders in February to cope with the influx. Poor living conditions and unclear rights have led to the Greek camps being criticized by rights groups and violent incidents among the migrants.
More than 8,000 are currently stranded on Greece's eastern islands following the March agreement between the EU and Turkey that would see refugees and migrants deported. However, deportations have been held back by delays and a sluggish screening process, which has also contributed to the violence.
Greece is among several countries dealing with frustrated migrants starting trouble. France's infamous Calais 'Jungle Camp' was recently set alight, with police having to storm the premises, after some 200 Sudanese and Afghan refugees started a fight during food distribution last Thursday. There was at least one person shot and several knife wounds. Dozens of injuries were registered among the police and the migrants.
READ MORE: Clashes in Calais 'Jungle' camp during meals distribution, tear gas deployed (VIDEO)
The camp was earlier demolished, but moved to Dunkirk by Medicins sans Frontier at the charity's expense without government approval.
You can share this story on social media: