Clashes in Calais 'Jungle' camp during meals distribution, tear gas deployed (VIDEO)
Published time: 27 May, 2016 08:17
Edited time: 27 May, 2016 08:17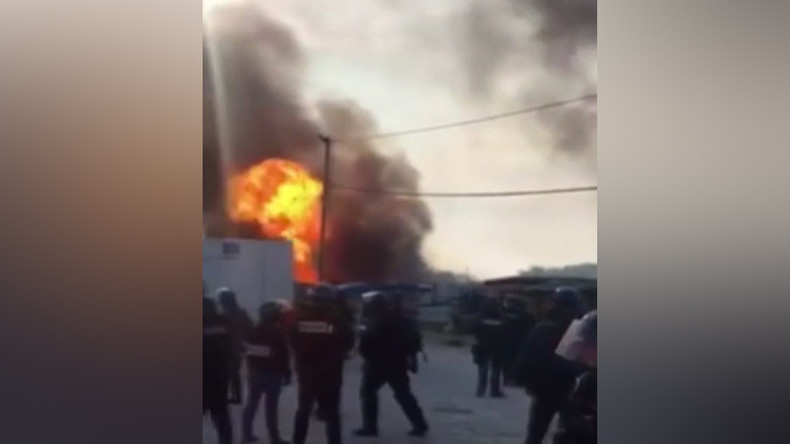 Police have deployed tear gas at the Calais "Jungle" camp as fierce clashes occurred between asylum seekers. The brawl resulted in dozens of injuries among the refugees, volunteers and police officers.
The fight broke out during food distribution at the Jules-Ferry aid center in the camp late on Thursday, the Pas-de-Calais prefecture said in a statement. About 200 Afghan and Sudanese refugees were reportedly involved in the fight.
"Around 20 migrants, three volunteers and a police officer were injured in a brawl between Afghans and Sudanese [migrants]. The reason for the fight has not yet been determined," the statement said.
According to police, at least one person was shot. Others received knife and baton injuries, officials said, as cited by AFP.
READ MORE: Almost 130 refugee kids vanish after 'Calais Jungle' demolition - charity
"I heard ... something that sounded like a gunshot or a firing tear gas and I heard screaming," a local resident told La Voix Du Nord newspaper, adding that when she went outside, she saw injured police officers and fighting between migrants.
La Voix Du Nord, however, said more people suffered in the clashes. According to the paper, 57 refugees were wounded, five of them seriously. Among the injured are five volunteers of La Vie Active (Active Life) aid group and two police officers, the paper added.
READ MORE: Angry Calais residents protest in Paris over migrant crisis (PHOTOS, VIDEOS)
Several makeshift refugee shelters were burned down and at least 15 fire trucks were deployed at the site of the incident, AFP reported. Also some 20 police cars were seen in the area. The officers had to deploy tear gas to disperse the clashes.
La Voix Du Nord said more than 250 police officers and 70 firefighters were mobilized for the incident.
The deputy prefect of Calais, Vincent Berton, said he was going to speak to the region's leaders to discuss the situation in the notorious camp.
The volunteers who were helping refugees at the camp reportedly left the area.
This is not the first mass brawl at the camp. In March, dozens of migrants flooded the motorway storming trucks in the French port city. Riot police used water cannon and smoke grenades to disperse the mob.
Though French authorities bulldozed the parts of the notorious camp back in February, some 4,000-5,000 refugees live in the remaining areas of the camp, according to French and UK aid groups who are working with the migrants in the camp. While a court in Lille had authorized the demolition of the "Jungle", it told police to spare public facilities, such as mosques, restaurants and schools that have sprung up on the site.
The asylum seekers, who are mainly from Middle East, Africa, and Afghanistan have traveled to France in the hope of crossing the English Channel to the UK, after having had their applications rejected elsewhere, or in expectation of better prospects in Britain than in the rest of the EU.