Self-defense seminar in high demand in Okinawa after US base employee detained as murder suspect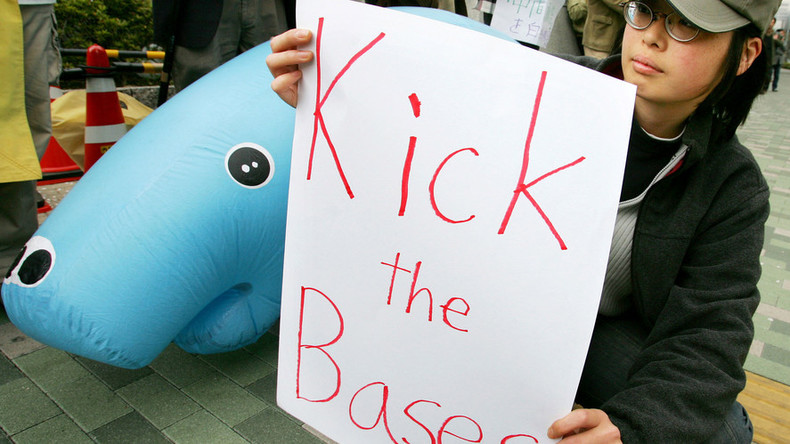 An annual self-defense seminar in Japan's Okinawa Prefecture, which is home to a US military base, has been reportedly packed "fivefold" by local women this year. Attendees say they are in fear following the murder of a young local woman.
Some 150 women came to a seminar hosted by a police station in the city of Uruma this week, the Japan Times reported.
Last month, 20-year-old Rina Shimabukuro was brutally killed in Okinawa. A US military base employee, who is also a former marine, was arrested on suspicion of the murder. The man had reportedly been driving around the neighborhood looking for a victim for several hours before finally attacking the woman, who was having a walk near her home.
"I could have been the one who was assaulted," 21-year-old Yumeka Nagamine, a local office worker, told the Japan Times, adding that she had been approached by American soldiers in the past when walking near the base.
Another seminar attendee, 36-year old Mirei Kadena, who has two teenage daughters, said she wanted to learn how to protect them. "I can't even start to think what if it were my daughters," she told the publication, adding that she herself had once been approached by a US soldier and "felt a chill."
Although she said it's not right to show prejudice against American soldiers, she still pointed out: "But this incident would have never happened if it weren't for the [US] base."
Following this latest arrest and a separate case from earlier this year in which a US Marine Seaman pleaded guilty to raping a Japanese woman in Okinawa, the US military in Japan prohibited its soldiers in the prefecture from participating in celebrations or consuming alcohol off base. US military officials claim, however, that the move is not meant to be a punishment, but rather a sign of respect for the Japanese people.
The most recent crimes linked to America's military presence in the region may only exacerbate a long and widespread opposition to hosting a US Marine Corps base in the prefecture. While Japan summoned the US ambassador to lodge a complaint over the recent murder, public outrage has spread as far as the US capital. Last week, a women's activists group held a protest in Washington to demand the removal of US bases from Okinawa.
You can share this story on social media: