Iraq offensive delayed: '20,000 children' among civilians trapped in ISIS-occupied Fallujah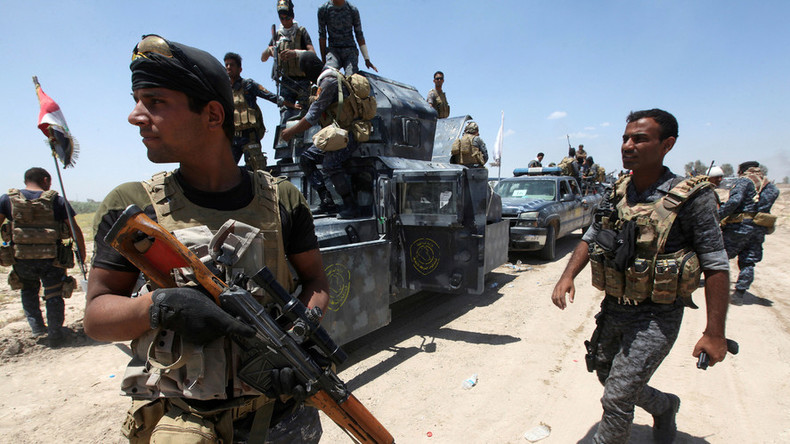 Iraq's Fallujah offensive against Islamic State (IS, previously ISIS/ISIL) has temporary ground to a halt, as 50,000 people, including 20,000 children, are feared to be trapped inside the city and running out of supplies.
The delay was announced by Iraqi Prime Minister Haider al-Abadi on Wednesday, as the military fears for the safety of the trapped civilians, who have a limited supply of food, water, and healthcare.
In footage broadcast on state television, Abadi told military commanders in the operations room near the frontline, "It would have been possible to end the battle quickly if protecting civilians wasn't among our priorities… Thank God, our units are at the outskirts of Fallujah and victory is within reach."
The United Nations has previously reported that IS fighters have been using civilians as human shields.
Iraq's troops will remain at the city's edge until further notice, having encountered heavy resistance from Islamic State fighters.
Most of the civilians have been evacuated from the Fallujah, but about 50,000 are still believed to be trapped inside with scant supplies of food, water, and medicine. Around 20,000 are thought to be children, according to UNICEF, the UN's children's right agency.
"We are concerned over the protection of children in the face of extreme violence," UNICEF Representative in Iraq Peter Hawkins said in a statement. "Children face the risk of forced recruitment into the fighting" inside Fallujah.
Moreover, the World Food Programme (WFP) said the humanitarian crisis inside the city walls is getting worse. "The city is inaccessible for assistance and market distribution systems remain offline… The only food available does not come from the markets, but from the stocks that some families still have in their homes."
Fallujah saw some of the heaviest fighting during the US-led military intervention of 2003-2011, and in January of 2014, it became first city in Iraq to fall to Islamic State fighters. The extremists declared a caliphate in territories they had seized in Iraq and Syria in late June 2014.
Aside from Fallujah, Islamic State controls territory in the country's north and west, including the country's second largest city, Mosul.Morgan Johansson,
You can share this story on social media: