'Protect media freedom:' HRW urges Ukraine to drop ban on 17 Russian journalists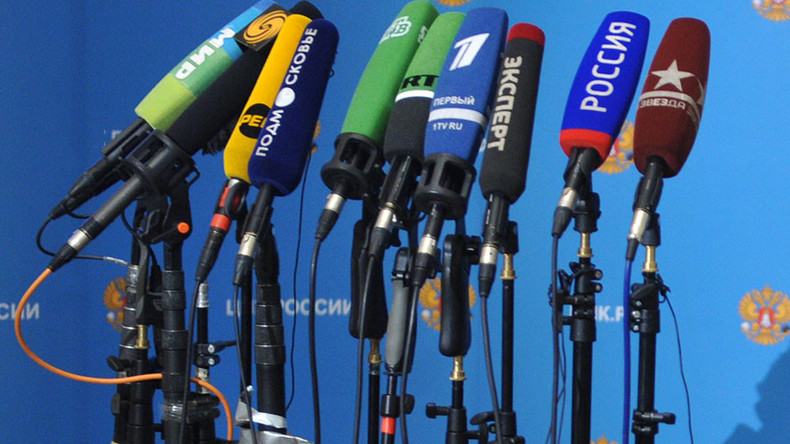 Human Rights Watch has called on Ukrainian authorities to drop sanctions imposed on 17 Russian journalists and stop the crackdown on media freedom, which the organization dubs 'inappropriate.'
"Ukraine is legitimately concerned about the effects of Russian propaganda, but cracking down on media freedom is a misguided, inappropriate response to whatever disagreement the Ukrainian government may have with Russia's media coverage about Ukraine," Tanya Cooper, Europe and Central Asia researcher at Human Rights Watch, said in a statement published on Wednesday.
On May 27, Ukrainian President Petro Poroshenko signed a decree imposing "special personal restrictive measures" against 17 reporters, editors and media executives of leading Russian TV channels and news agencies, citing "national security, sovereignty and territorial integrity" concerns.
RT's Editor-in-Chief Margarita Simonyan and the head of Russia's main state-owned TV station Channel 1, Konstantin Ernst, are among the 17 listed in the decree.
The document accuses the Russian media heads of "violating human rights" and depriving Ukrainian citizens of "proper rights and freedoms." It also calls on the Foreign Ministry to inform the EU, US and other governments about the new sanctions and encourage them to impose similar measures against the people listed.
"Targeting journalists in this way inevitably encourages censorship," Cooper said, adding that Ukraine's international partners must protest against the introduction of sanctions and encourage Kiev to withdraw them.
"Ukraine's international partners should protest the decree and urge Kiev to revoke it. The EU, US, and others need to make clear that they do not support such arbitrary measures against the media and encourage President Poroshenko and his government to respect media freedom even if they disagree with the coverage by certain outlets," Cooper stressed.
HRW notes that Ukraine is a party to the European Convention on Human Rights and the International Covenant on Civil and Political Rights, two international organizations whose aim is to guard and encourage freedom of expression. It states that banning journalists from entering Ukraine on the basis of them exercising their "free speech and expression of opinion" is a direct interference with their freedom of expression and is as such illegitimate.
"To be legitimate, an interference with or restriction on freedom of expression must be provided for in law, nondiscriminatory, and demonstrably necessary to protect a legitimate aim, in a manner that is proportionate to protect that aim," HRW states.
The May 27 decree is not the first attack by Ukrainian authorities on Russian media. Earlier this spring, Kiev issued an order restricting the broadcast of Russian media, including Channel One, Rossiya 24, NTV, RT, Zvezda and other major TV channels.
In March, Ukraine also banned all Russian movies and TV shows released after January 1, 2014, citing the need to bolster "national security." The move amended a law banning Russian films falling within the military genre made from 1991, which were dubbed "propaganda" by the Ukrainian authorities.
You can share this story on social media: