'Specter of break-up haunting Europe': EU chief Tusk blasts 'illusions' of bloc's unity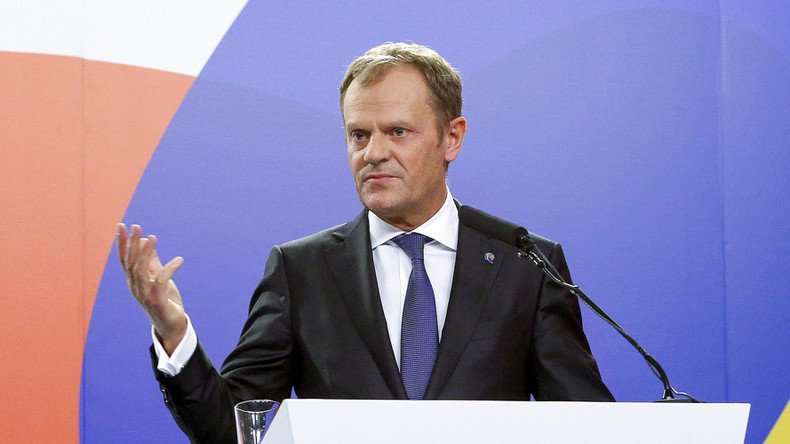 European Council President Donald Tusk has sounded the alarm, warning that Eurosceptic movements are gaining momentum in the EU because the dream of a federation-like union being pushed by EU leaders is out of touch with the views of ordinary Europeans.
"The specter of a break-up is haunting Europe. A vision of a federation doesn't seem to me like the best answer to it," Tusk said at a meeting of the European People's Party, the biggest bloc in the European Parliament, Reuter reported.
Addressing fellow EU leaders, including German Chancellor Angela Merkel and EU chief executive Jean-Claude Juncker, Tusk took a shot at the idea, popular among EU conservatives, of creating a more federalized Europe. European leaders who pursue what Tusk called utopian "illusions" are not in tune with their own peoples,' who do not share their "Euro-enthusiasm."

"Obsessed with the idea of instant and total integration, we failed to notice that ordinary people, the citizens of Europe, do not share our Euro-enthusiasm. Disillusioned with the great visions of the future, they demand that we cope with the present reality better than we have been doing until now ... Euroscepticism [has] become an alternative to those illusions."

"It is us who today are responsible for confronting reality with all kinds of utopias – a utopia of Europe without nation states, a utopia of Europe without conflicting interests and ambitions, a utopia of Europe imposing its own values on the external world," the former Polish prime minister said.
As European Council president, Tusk said that it was time for "an honest and open debate on the subject."

Speaking just a month before a British referendum on whether to stay in the bloc, Tusk called the possibility of a "Leave" vote a risk to the European Union, pointing out that the Brexit debate has been mostly focused on fears that greater EU integration means a loss of sovereignty for the UK.

British Prime Minister David Cameron has called a referendum to decide whether Britain should leave the 28-nation European Union, which is to be held on June 23.
You can share this story on social media: