'Stuck in Cold War': Beijing says won't play role in Hollywood-style movie directed by US military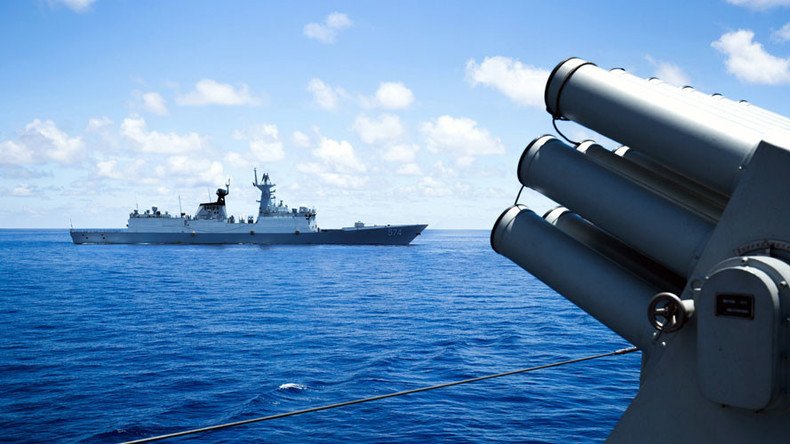 Beijing has accused US Defense Secretary Ashton Carter of having a Cold War mentality, following his statement that China risks creating a "Great Wall of self-isolation" over its actions in the South China Sea.
Speaking at a daily news briefing on Monday, Chinese Foreign Ministry spokeswoman Hua Chunying said Carter's remarks "laid bare the stereotypical US thinking and US hegemony."
"Indeed, there are some in the US who live physically in the 21st century, but whose minds are stuck in the Cold War era," she said, as quoted by AP.
"China has no interest in any form of Cold War, nor are we interested in playing a role in a Hollywood movie written and directed by certain US military officials. However, China has no fear of and will counter any actions that threaten and undermine China's sovereignty and security," Hua continued.
The remarks come just days after US Defense Secretary Ashton Carter said that China risks creating a "Great Wall of self-isolation" through its military expansion in the South China sea and its alleged hacks on US companies.
"China's actions could erect a Great Wall of self-isolation," Carter told graduating officers at the US Naval Academy in Annapolis, Maryland, on Friday. "Countries across the region - allies, partners, and the unaligned - are voicing concerns publicly and privately at the highest levels."
Carter went on to state that the US continues to be concerned about Beijing's actions in the disputed South China Sea, where it has laid claim to almost the entire region.
"China's actions (in the South China Sea) challenge fundamental principles, and we can't look the other way," Carter said.
Responding directly to those statements, Hua said the remarks were aimed at providing cover for Washington's plans to deploy additional military forces to the Asia-Pacific region.
Carter's statements were the latest in a series of critical remarks by Washington in regard to Beijing's behavior in the South China Sea.
Tensions between the two countries were strengthened just last week, when the US lifted an arms embargo on Vietnam – a move which the state-run China Daily said is aimed at "curbing the rise of China."
Despite China repeatedly warning the US against interfering in the region, the US has conducted several warship excursions into the disputed waters, and has flown numerous surveillance missions over the area. Washington has also vowed to ignore Beijing's Air Defense Identification Zone (ADIZ) when conducting military missions in the area.
Beijing lays claim to almost all of the South China Sea, despite conflicting partial claims from Brunei, Malaysia, Vietnam, Taiwan, and the Philippines. It has reportedly built military installations, including runways and missile launchers, on reclaimed islands. Japan also has a dispute with Beijing over ownership of the Senkaku Islands in the East China Sea.
You can share this story on social media: