'Sparking regional tinderbox': Beijing irked by US-Vietnam arms deal despite public praise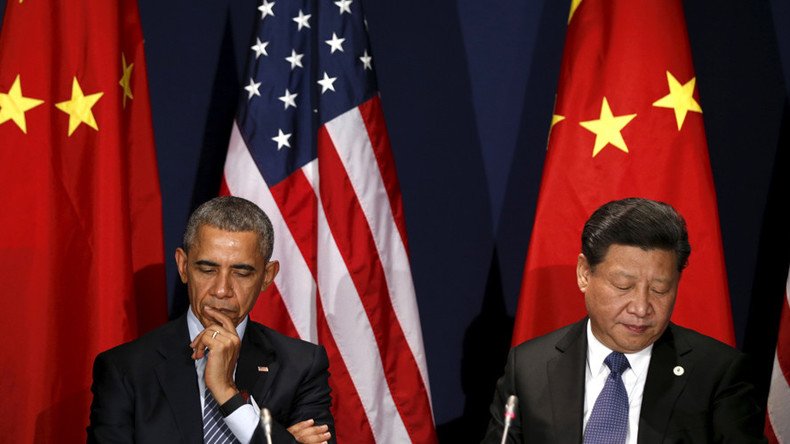 The Obama administration has lifted an arms embargo on Vietnam, a move which neighboring Beijing has publicly praised. But the state-run China Daily has set a harsher tone, noting concerns that the move is meant to "curb the rise of China."
The US president unveiled the move during a visit to Vietnam on Monday, insisting it was "not based on China." However, a Tuesday editorial in the China Daily seemed to disagree.
Warning that the US and Vietnam must not spark a "regional tinderbox," the newspaper cited concerns that the move was intended to "curb the rise of China."
"This, if true, bodes ill for regional peace and stability," the editorial continued.
But the China Daily, a mouthpiece for the Communist government, wasn't the only publication to challenge Obama's statement that the move wasn't about Beijing.
The nationalist Global Times took aim at the US president's claim, calling it a "very poor lie" and adding that it would worsen the "strategic antagonism between Washington and Beijing."
It went on to state that the White House is "taking advantage of Vietnam to stir up more troubles in the South China Sea."
But China's written words are a far cry from the words spoken by Foreign Ministry spokeswoman Hua Chunying, who said that "as a neighboring country, we would be happy to see Vietnam develop normal and friendly cooperative relationships with all other countries, including the United States."
"And we hope those normal and friendly relationships are conducive to regional stability and development," she told reporters at a news conference.
Hua went on to say that such embargos are "a product of the Cold War, and should not have existed."
Triangle of tension
Despite Obama's claim that the lifting of the arms embargo was not about China, he did mention the concern shared by the US and Vietnam regarding Beijing's actions in the disputed South China Sea.
Beijing lays claim to almost all of the South China Sea, despite conflicting partial claims from Brunei, Malaysia, Vietnam, Taiwan, and the Philippines. It has reportedly built military installations, including runways and missile launchers, on reclaimed islands. Japan also has a dispute with Beijing over ownership of the Senkaku islands in the East China Sea.
Territorial clashes between Vietnam and China led to the deaths of dozens of people in 1988, just nine years after a bloody border war took place between the two countries.
The US, despite not being a claimant in the South China Sea, has its own issues with Beijing's actions there. China has repeatedly warned the US against interfering in the region. However, Washington has vowed to ignore Beijing's Air Defense Identification Zone (ADIZ) when conducting military missions in the area.
You can share this story on social media: