Austrian police arrest 20yo sworn to 'shoot dead asylum seekers'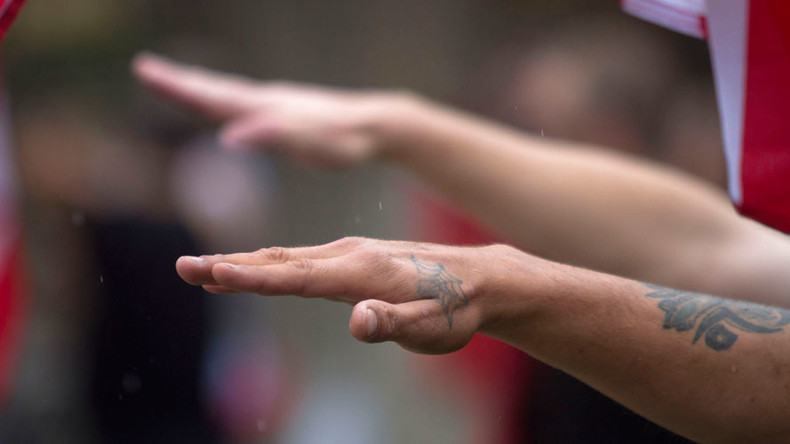 Police in the Linz-Land district of Austrian capital Vienna have arrested a suspected neo-Nazi allegedly planning to massacre asylum-seekers. Officers found weapons and ammunition at the man's home, along with Nazi memorabilia, AFP reports.
According to a statement from the police, the detained 20-year-old "repeatedly told friends that he wanted to 'shoot dead all asylum-seekers with his shotgun' at a refugee center." Police did not disclose the man's name.
The statement, cited by AFP, also claims the man used neo-Nazi terms in his speech and sent two text messages to a friend that included "national socialist ideology."
APA news agency reports the man's threats were directed specifically against a refugee center in his district. Citing sources close to the detainee, the agency states the man even threatened his own grandmother.
Police say they discovered wartime Nazi items during a raid on the detainee's home on Thursday, arresting him near the premises early on Friday. He was taken to prison in Linz.
It's not the first time neo-Nazis in Austria have come into the spotlight this month. On May 22, a man with neo-Nazi links opened fire with a Kalashnikov assault rifle at a concert in Vorarlberg state, western Austria, killing two people and injuring 12 before turning the gun on himself. Police at the time said the incident happened after the shooter had an argument with his girlfriend. Although officials believe the shooting was caused by a domestic argument rather than ideology, the attacker is known to have had connections with the local far-right network 'Blood and Honor'.
Last year some 90,000 people claimed asylum in Austria, more than 1 percent of the 8.6 million population, with around 10 times that number passing through towards Germany and Scandinavia.
The number of newcomers and the fear and uncertainty it has brought upon Austrians has boosted the far-right mood within the nation, with Euroskeptic, anti-immigration Freedom Party (FPO) candidate Norbert Hofer securing almost half the votes in the recent presidential election. Despite running some 0.8 percent short of the victor, the Green Party's Alexander van der Bellen, Hofer and his right-wing party remain optimistic and plan to continue their work through the upcoming parliamentary elections to be held within a year or two.