Poroshenko appoints former NATO chief Rasmussen 'non-staff adviser'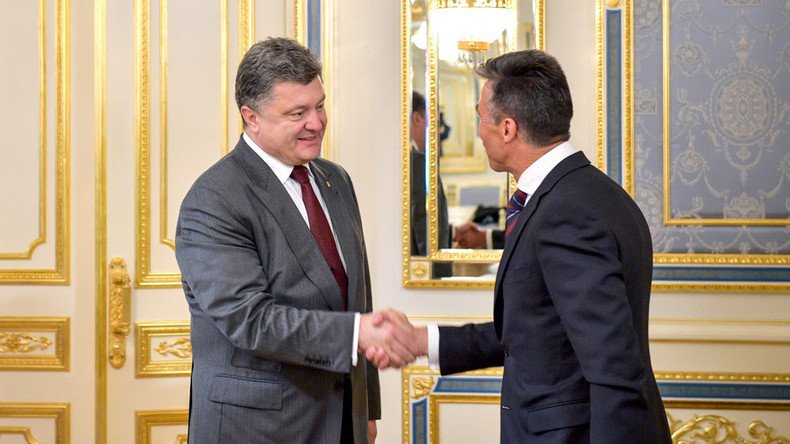 A former NATO Secretary General has been chosen as a new "non-staff" adviser to Ukrainian President Petro Poroshenko, according to a decree bearing his signature. However, the document implies that the ex-chief is yet to agree to the appointment.
"Appoint Anders Fogh Rasmussen as adviser to the President of Ukraine outside the official staff (subject to his consent)," says the decree also published on the Ukrainian president's official website.
Rasmussen was the twelfth Secretary General of NATO in the period from August 2009 to September 2014. He was also Danish Prime Minister from 2001 to 2009. In 2014, Poroshenko awarded Rasmussen, who still was NATO Secretary General at that time, with the Order of Freedom – the highest Ukrainian award for foreign citizens – for his "significant personal contribution to the development of cooperation between Ukraine and NATO as well as for considerable support for Ukraine's sovereignty, independence and territorial integrity."
Rasmussen is yet to comment and either confirm or deny his appointment. Last year, US Senator John McCain, also appointed by Kiev to a similar position, eventually turned down the proposal claiming that the US constitution prohibited him from getting on board.
READ MORE: No Ukraine for McCain: US constitution precludes senator from joining reform council
The assignment of the role to Rasmussen comes soon after Ukrainian National Security and Defense Council adopted a program for the reorganization of Ukraine's defense industry as well as military in line with NATO standards on May 20.
"We are beginning real reorganization of the defense and security sector in order to join NATO," Poroshenko said at the time, commenting on this decision. He stressed that Ukraine had not been directly making steps for immediate accession to the Alliance but called the move "The Rubicon" that Ukrainian armed forces and the defense industry would have to "pass" to adapt to NATO standards, as reported by TASS.
The deputy head of the Russian parliament's defense committee, Sergey Zhigarev, called Rasmussen's appointment to the position of the presidential adviser a sign of the Ukrainian president's mistrust of his own people.
"This is a very bad sign. It shows that he [Poroshenko] does not trust his own citizens that entrusted him with leading their country," Zhigarev told Sputnik.
In the meantime, Rasmussen is not the first foreign citizen in Ukraine's Presidential Administration as some foreigners even held ministerial posts in the Ukrainian government. In 2014, Poroshenko appointed Natalie Ann Jaresko, an American-born Ukrainian investment banker, as Ukraine's Minister of Finance, while former Georgian Health Minister Alexander Kvitashvili took the post of the head of the Ukrainian Health ministry and Aivaras Abromavicius, a Lithuanian businessman, became Ukraine's Minister of Economy and Trade. They held their posts till the new government was installed in April 2016.
Leszek Balcerowicz, Poland's former deputy prime minister, now serves as Poroshenko's representative in the Ukrainian government while former Slovakian Finance Minister Ivan Miklos is now the head of a group of Ukrainian prime minister's advisers.
Meanwhile, former Georgian President Mikhail Saakashvili, wanted for trial on corruption charges at home, was granted Ukrainian citizenship so that he could take the post of the Ukrainian Odessa region.
Saakashvili was appointed as governor of Ukraine's Odessa Region in May of 2015, after which he brought in several members of his old Georgian team, including Ukraine's current national police chief Khatia Dekanoidze, who was Georgia's education minister; Deputy Interior Minister Eka Zguladze, who held a similar position in the Georgian government; Deputy General Prosecutor David Sakvarelidze, who held a similar position in the Georgian government as well, and was also Saakashvili's lawyer; and Gizo Uglava, Ukraine's current Head of the Anticorruption Bureau and Georgia's former deputy general prosecutor.
You can share this story on social media: