SpaceX attempts new Falcon 9 launch, sea-based landing after 'glitch' delayed start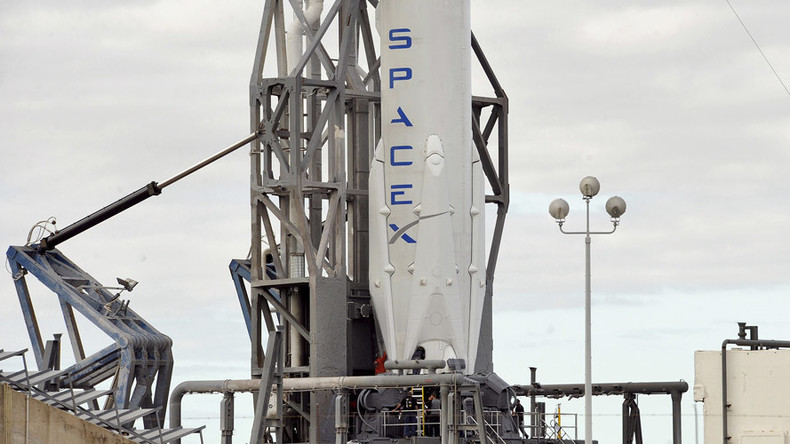 After having failed to launch the Falcon 9 rocket, SpaceX has successfully sent up its spacecraft, marking its fifth attempt this year. Elon Musk's team has also managed to execute its third sea-based landing on a floating platform in the Atlantic.
On Thursday, the Falcon 9 launch was delayed due to what Musk called "a tiny glitch."
The second "backup" two-hour launch window for the next attempt opened at 5:39pm ET.
Falcon 9 has blasted off from a launchpad at Cape Canaveral, Florida bringing a 3,000kg telecommunications satellite Thaicom 8 into a geostationary transfer orbit 20,000 miles above Earth.
"When THAICOM 8 launches, it will strengthen Thaicom's broadcast platform at 78.5 degrees east longitude – providing South Asia and Southeast Asia with broadcast and data services," the company said in a statement.
However, this evening all eyes have been on the sea-based landing attempt on a platform in the Atlantic.
Late last year, the company managed to land its first reusable rocket on solid ground. This spring, SpaceX also successfully landed two of its rockets on an autonomous floating barge.
READ MORE: SpaceX Falcon 9 rocket puts satellite into orbit, lands on drone platform

On May 6, the unmanned SpaceX rocket launched from Florida to put the JCSAT 14 communications satellite into orbit for th Tokyo-based SKY Perfect JSAT Corporation. The "trip" was followed by a successful landing on a platform in the Atlantic Ocean, which became the second successful touchdown in a row. The first one was in April.
By the end of this year, SpaceX expects to have launched a total of 18 rockets, which is two times more than last year's total.