SpaceX Falcon 9 rocket puts satellite into orbit, lands on drone platform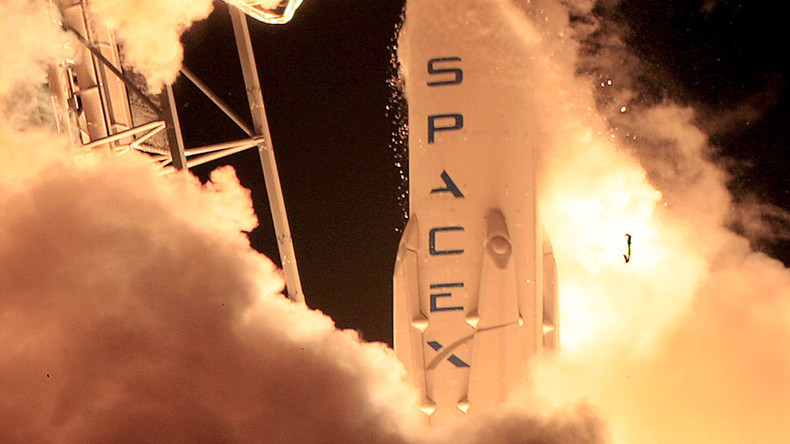 The unmanned SpaceX rocket has been launched from Florida to put the JCSAT 14 communications satellite into orbit for Tokyo-based SKY Perfect JSAT Corporation. It made a successful return trip, landing on a platform in the Atlantic Ocean.
This is the second successful touchdown in a row on a floating platform, after the last one in April. There were previously four failed attempts. SpaceX also made a successful landing on a ground-based pad in December.
About two and a half minutes after the launch, the rocket's first stage was scheduled to shut down and separate, leaving the second stage to deliver the satellite into its intended orbit more than 25,000 miles (40,000 km) above the Earth. The returning rocket was programmed to fly itself back to a floating landing pad positioned more than 400 miles (650 km) off Florida's east coast in the Atlantic Ocean. A company webcast showed the 23-story-tall Falcon 9 rocket soaring off a seaside launch pad at Cape Canaveral Air Force Station at 1:21 a.m. EDT (0521 GMT).
Before blastoff, Elon Musk's company downplayed the expectations of a successful landing. SpaceX originally said in a statement that the first stage of the Falcon 9 "will be subject to extreme velocities and re-entry heating, making a successful landing unlikely."
The challenge is to develop fully and rapidly reusable rockets, with SpaceX CEO Elon Musk saying such technology could cut the cost of spaceflight by a factor of 100.
Last week, SpaceX won its first contract to launch a US military satellite, breaking a 10-year-old monopoly held by United Launch Alliance, a partnership of Lockheed Martin Corp and Boeing Co.
JCSAT 14 communications satellite is designed to provide television, data and mobile communications services to customers across Asia, Russia and Oceania and the Pacific Islands.