Gang rape of teenage girl in Brazil by more than 30 men sparks online outrage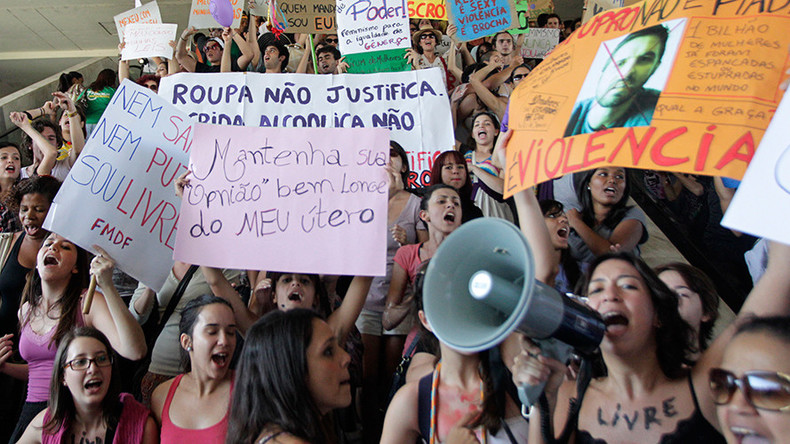 Social media users have voiced outrage on Twitter as Brazilian police continue to search for more than 30 men believed to be involved in raping a teenage girl and posting a video of the attack online.
The girl, who cannot be named for legal reasons, allegedly visited her boyfriend's house in Rio De Janeiro and was drugged before waking up in a different house, surrounded by dozens of men, according to the BBC.
It was only when she reportedly returned home later that day, she discovered her attackers had filmed the incident and posted images on social media.
The 40-second video clip was also shared on Twitter, attracting a series of misogynistic comments before being removed from the site.
READ MORE: Brazillian MP fined $2,560 for telling 'ugly' colleague she was not 'worth raping'
The girl's grandmother told local newspaper Folha de São Paulo the family was emotional after watching the video.
"I regretted watching it," she said. "When we heard the story, we didn't believe what was happening. It's a great affliction. It's a depressing situation."
Though police have issued arrest warrants for the culprits, including the boyfriend, angry campaigners took to Twitter to voice outrage at the country's "culture of rape."
Using the hashtag 'EstuproNuncaMais' (rape never again), Twitter users said women should never have to endure such an experience.
One woman said she rejected "macho culture" and "turning a women into a sexual object."
Others called not only for the attackers to be punished, but also those who viewed the video as it "encourages the crazies."
Rights groups have previously criticized Brazil for its "macho" views on women.
A joint study by the UN and Institute for Applied Economic Research (IPEA )in 2014 found that a shocking 58.5 percent of Brazilians believed if women "behaved properly," there would be fewer cases of rape, highlighting the sexism in the country's society.
Prior to 2009, rape was defined in law as a "crime against social dignity," which focused more on the reputation of a family, rather than the injustice suffered by the individual of the actual crime.
According to the same IPEA study, there are more than 500,000 rape incidents in Brazil every year, with only 10 percent being reported to authorities.
The penal code was changed that same year and recategorized as a "crime against dignity and sexual freedom," which encouraged more people to come forward and report rape.