Brazillian MP fined $2,560 for telling 'ugly' colleague she was not 'worth raping'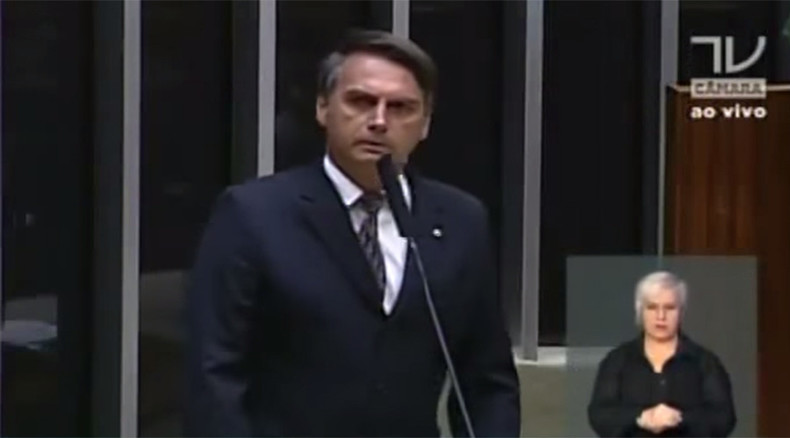 A Brazilian congressman has been ordered to pay his fellow MP more than $2,500 in moral damages for telling her she was "very ugly" and not "worth raping," after she allegedly called him a rapist during last year's debates in congress about sexual violence.
Congressman Jair Bolsonaro was found guilty of an unacceptable attack on Maria do Rosario Nunes during a speech delivered in the House in December last year. The subsequent comments were made the following day in an interview with a newspaper. Judge Tatiana Dias da Silva of the 18th Civil Court of Brasília, ruled that 59-year-old Bolsonaro must pay 10,000 Brazilian reals ($2,560) and publicly retract his statements.
While Brazilian politicians have immunity from prosecution for any comments made inside Congress, they are subject to the law outside the legislative chambers.
The unpleasant comment was made last December during a heated debate in Congress about sexual violence in Brazil, when the opposition congressman Bolsonaro told Nunes he would not rape her "because she was not worth it." Rosario had called him a "rapist" prior to that.
"Stay here Maria do Rosario!" he yelled as Nunes walked out of the session. "It's been several days since you called me a rapist, and I said that I did not rape you because you weren't worth it!"
Nunes filed a complaint, accusing her colleague of slander and public incitement to rape.
"I am not doing it for me, but for all Brazilian women, because no one deserves to be raped. I do not accept in Parliament or anywhere, the incitement to rape," said Nunes, a minister for Human Rights at the time.
Bolsonaro did not retract his comments or ask for forgiveness. "She isn't worth it, because she's ugly, she's not my type. I would never rape her," he told Zero Hora newspaper the next day – a phrase that cost him a fine.
In a separate interview with Brazilian daily Folha de Sao Paulo, Bolsonaro apparently attempted to explain himself, lashing out at Nunes for unfairly accusing him of being a rapist.
"Suddenly, she was calling me a rapist, and she repeated this offense," said Bolsonaro. "It was an unfair verbal attack, I responded that I was not a rapist and that if I was, I wouldn't rape her because she wasn't worth it."
Following the judge's ruling, Nunes said on her Facebook page that Brazilian women had "won a victory."
"I reaffirm that any use of title indemnity for damages, will be immediately allocated to organizations that work to combat violence against women in the country," she wrote.