Syrian airlifter escorted by Russian jets parachutes vital aid to ISIS-besieged town (VIDEO)
Russian fighter jets have escorted a Syrian IL-76 airlifter to deliver some 32 metric tons of humanitarian aid to the Islamic State-besieged city of Deir ez-Zor. Footage of the process demonstrates the full scope of the dangerous and complex operation.
On Thursday, a fully loaded Russian-made IL-76 belonging to Syrian air force took off from the Khmeimim airbase en route to Islamic State (IS, formerly ISIS/ISIL)-controlled land to make the delivery of food to civilians of Deir ez-Zor who face a dire humanitarian situation while under siege. The priceless cargo was escorted by Russian SU-30 fighter jets to insure smooth delivery.
Read more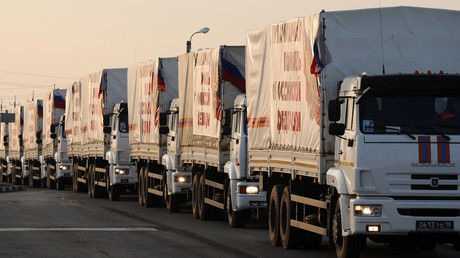 "Syrian IL-76 transport aircraft parachuted four platforms with food supplies from Syrian government totaling over 32 tons," the Russian Center for Reconciliation in Syria, which organized the delivery, said in a statement.
The delivery is destined for some 200,000 residents of Deir Ezzor, who are in urgent need of foodstuffs, medicine, fuel and other prime necessity goods, after the fall of the city to the jihadists hands in May 2015.
While the first airdrops with the help of the Russian planes were made even before the Russian-US brokered ceasefire went into effect on February 27, Deir ez-Zor has been receiving aid on regular basis starting this spring. On Wednesday, for instance, a Russian military transport plane airdropped 21 tons of supplies to the residents of the besieged city.
UN Special Envoy for Syria Staffan de Mistura praised Damascus for their efforts to deliver aid to parts of the country.
"The government of Syria has cooperated very happily and with a lot of energy for the air drops in Deir ez-Zor, which has reached 110,000 [people]," de Mistura said Thursday, stating that over 700 tons of aid has been delivered there. "[In Deir ez-Zor ] in fact, all the people have been reached with sufficient food for one month, and these are the joint operations with Russian pilots, WFP [World Food Program] planes, US funding and cooperation."