Russian aid convoys come under militant fire in Syria – truce center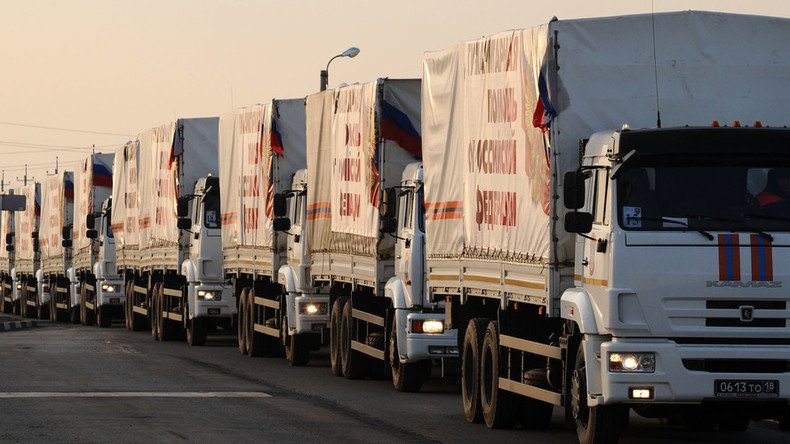 Russian convoys carrying humanitarian aid have been attacked by militants while on their way to the Syrian provinces of Damascus and Hama, according to a statement by the Russian Center for Reconciliation of the warring sides in Syria.
"While delivering humanitarian cargo to the settlements of Harasta, the Damascus province, and Kafr Nan, the Hama province, Russian aid convoys have come under fire by militants. None of the Center personnel and Syrian nationals taking part in the operations were injured," the statement goes.
The Russian center successfully delivered humanitarian aid to the village of Kafr Nan on March 20.
"It should be noted that before, despite the critical situation people are facing there and a desperate need for help, no organization has sent an aid convoy to Kafr Nan," the statement stressed.
A new aid cargo for the Hama province residents is currently being assembled, Russia's truce center in Syria says.
The center has been informed that two Al-Nusra groups of nearly 100 militants came to the town of Binnish, in the Idlib province. They told local residents they intend to depart for Aleppo, where they will fight against the government forces.
The center has continued talks with the leaders of two military groups from Aleppo regarding the ceasefire. The number of groups obeying the ceasefire has gone up to 43.
At least six violations of the ceasefire – five in Latakia and one in Hama – were registered over the last 24 hours by the Russian military.
The Russian Center for Reconciliation at the Khmeimim airbase has also notified its American counterpart in Amman about the cease-fire breaches detected in the recent days in the provinces of Aleppo and Latakia.
The ceasefire in Syria was introduced on February 27. It doesn't apply to Islamic State (IS, formerly ISIS/ISIL), Al-Nusra, or other organizations designated by the United Nations' Security Council as terrorist. The cessation of hostilities deal has been struck by the Russian ceasefire center at the Khmeimim airbase in Latakia province, and the US coordination center in Amman in Jordan.
You can share this story on social media: