RT reporter Anna Baranova harassed by 'pro-Ukraine' protesters during Paris demo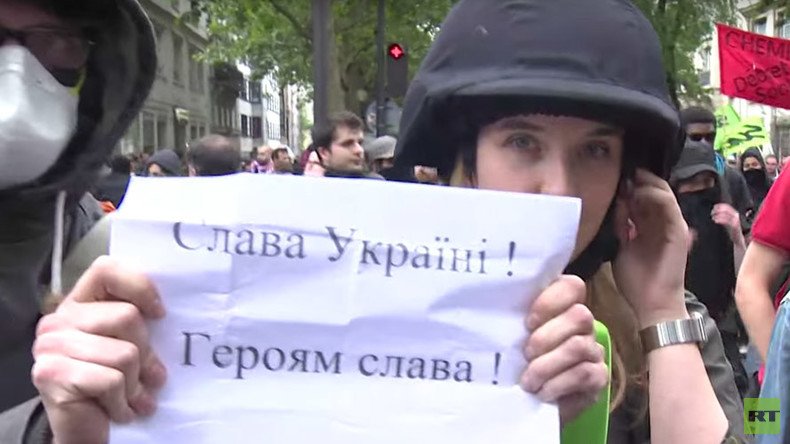 RT's Anna Baranova has had her live broadcast from anti-labor reform protests in Paris sabotaged by demonstrators shouting pro-Ukraine slogans and personal insults, after having been punched in the head last week.
Police said over 18,000 union members, students and activists had gathered in the heart of the city for a scheduled march against the new business-friendly regulations, which were forced through by the Socialist government this month.
The footage shows that seconds before Baranova was to go on air, a masked man walks behind her, and shouts "Glory to Ukraine!" a slogan of the anti-Russian Maidan movement that overthrew the government of Viktor Yanukovich two years ago.
A few moments after, a piece of paper with the same slogan is thrust in front of the lens, and then the camera is forcibly turned to another placard, in French.
"They were aggressive, I couldn't understand why I made them angry - they kicked my cameraman and pushed me around. I was about to go live, so I was trying to concentrate on what I was about to say and at the same moment try and assess how bad the situation around me was," said Baranova in the aftermath.
With the broadcast abandoned, activists surround the group shouting "Get out! Get out!" while a lone voice chants "B**ch!" in the background. Anna and the cameraman, Attila Kiraly, quickly make their escape.
"My cameraman really saved me from more damage, he pulled me out," said Baranova.
Last week, Baranova was sucker-punched in the helmet by another masked protester, at a similar rally, without any explanation.
But on Thursday she said she suffered a more "intimidating" ordeal, with several hostile demonstrators ganging up in an attempt to unsettle the crew.
"I'm disappointed that people don't see me as a human being and treat me as a soulless representative of a system they presumably dislike - a government, a party or media outlet that makes them unhappy," said Baranova.
Within an hour of the aborted report, clashes began between the demonstrators, who lobbed rocks at roadblocks, and the police, which replied by dispensing tear gas at the crowd.
Despite the souring mood on the street, Baranova says she has retained faith in the goodwill of most of the demonstrators, who the unions estimated at 100,000 – five times more than the police figures.
"I see it like this: there were thousands of people there, and only 10 or so harassed me. I'll focus on the ones that didn't. I heard many words of support concerning my previous incident too, so most people are kind," said Baranova.
You can share this story on social media: