Muslim mob strips, beats & drags elderly woman through streets, torches Christian homes in Egypt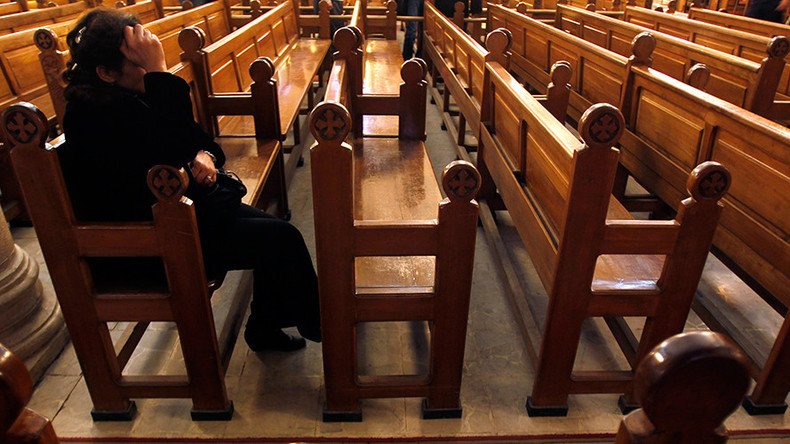 A Muslim mob stripped and beat an elderly woman before parading her through the streets of an Egyptian village, following rumors that a Christian man had an affair with a Muslim woman. The men also set seven Christian homes on fire.
The woman, 70, was stripped of her clothes, beaten, and insulted before being dragged through the streets of Minya, in southern Egypt, according to the local Orthodox Coptic church.
Security officials confirmed to AP on condition of anonymity that the attack took place and said the mob consisted of around 300 men. Six people were arrested and police was looking for 12 more, they said.
It took police almost two hours to arrive at the scene on the day of the attack, according to a statement by Minya's top cleric, Anba Makarios.
Makarios said the family of the Christian man had notified authorities of threats against them by Muslim villagers the day before the attack, which took place on May 20, according to a statement by the Orthodox Coptic church.
"No one did anything and the police took no pre-emptive or security measures in anticipation of the attacks," Makarios told a local television channel on Wednesday night. "We are not living in a jungle or a tribal society. It's incorrect for anyone to declare himself judge, police and ruler."
He went on to state that the late arrival of the attackers gave them "ample time" to commit the violent crime. Makarios added that if the situation was reversed – a Muslim man having an affair with a Christian woman – the response "would not have been anything like what happened."
Makarios said the elderly woman only reported abuse to police five days after the attack had happened, as she was struggling to recover from humiliation.
The late arrival follows common complaints that police don't do enough to pursue Muslim perpetrators.
The local governor in Minya, Tarek Nasser, has tried to downplay the incident, denying reports that the woman was stripped naked.
In addition to the abuses suffered by the 70-year-old woman, the mob also ransacked and torched the homes of seven Christian families, the Orthodox Coptic church said.
However, Nasser has also attempted to minimise that situation, saying: "Some irrational youths threw flammable missiles at the houses of Christians in the village and some women ran away in their nightgowns." He added that the matter was being resolved.
Extra-marital affairs are considered taboo among both Muslims and Christians in conservative Egypt, as well as sex between unmarried partners. Such events often lead to violence in rural areas, where the honor of a family is seen as highly important. Family feuds in such areas have been known to turn deadly, and can endure for years. Oftentimes, the guilty parties are ostracized from the community.
This is not the first time that reports have emerged about discrimination towards Egypt's Christian population, which makes up just 10 percent of the country's 90 million inhabitants.
Criminal gangs have targeted wealthy Christian families south of Cairo in recent years, kidnapping their children for ransom. Other cases have involved underage Christian girls being lured away from their families by Muslim men, who force them to convert and keep them in hiding until they become adults.
President Abdel-Fattah el-Sissi has attempted to address some of the Christians' grievances, changing election laws to allow more Christians into the national legislature and easing restrictions on building and renovating churches.
You can share this story on social media: