Terrifying migrant boat disaster captured as orphaned baby steals Italy's heart (PHOTOS, VIDEO)
Published time: 26 May, 2016 15:28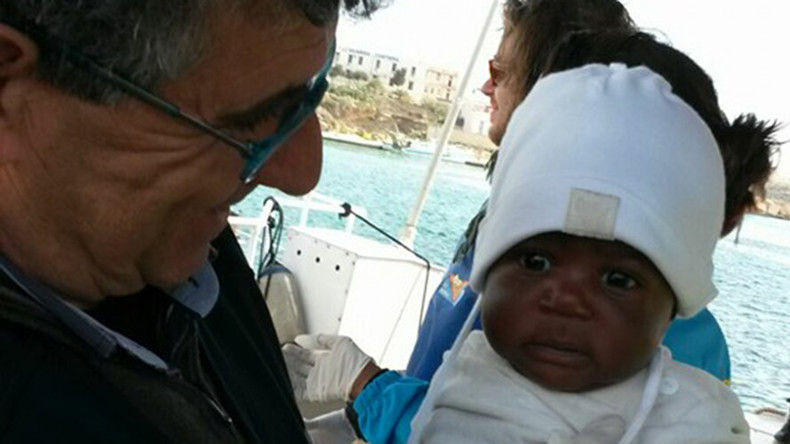 The Italian Navy has released dramatic footage of a rescue off the coast of Libya where they brought 562 migrants to safety after their overcrowded boat capsized.
The fishing vessel overturned Wednesday when migrants reportedly rushed to one side after spotting the naval boat nearby. At least five people are believed to have died in the tragedy.
The Italian navy patrol boat Bettica responded to a call for help made by a satellite phone some 18 nautical miles off Libya, according to The Local.
As the rescue boat approached the migrants to prove them with life jackets, the sudden push of passengers caused the vessel to overturn.
A helicopter and several rubber boats were deployed in the rescue operation.
The video shows the migrants swimming for life jackets and buoys, and later being pulled to safety.
READ MORE: Deportations kick off in Greece amid warnings Turkey is 'not safe 3rd country for refugees'
Meanwhile, a Nigerian baby rescued after her mother died during a treacherous Mediterranean crossing has captured hearts across Italy.
The vessel, carrying about 120 people largely from Mali and Nigeria, capsized near the island of Lampedusa Tuesday after, once again, the migrants rushed to one side when they saw the rescue ship.
The nine-month-old baby girl, Favour, arrived safely in the island after her mother passed her to another passenger before she died, La Stampa reports.
Pietro Bartolo, the island's only doctor, said the baby girl is doing well. "She is a marvellous creature, she hugged me, she didn't shed a tear," he said, according to Il Corriere.
Bartolo said he would adopt her if he could, but at nearly 60 years old he isn't optimistic he would be granted custody.
There have been hundreds of requests, however, to adopt Favour, according to The Local.
Over 194,000 refugees and migrants have successfully made the perilous journey across the Mediterranean so far this year, according to the UNCHR, while 1,380 have been reported dead or missing.
Nearly 40,000 of these arrivals have been rescued and transferred to Italy.
READ MORE: Norwegian minister ridiculed after plunging into Mediterranean to 'see refugee's perspective'