77% of Germans don't want their leader bowing to Erdogan's demands – poll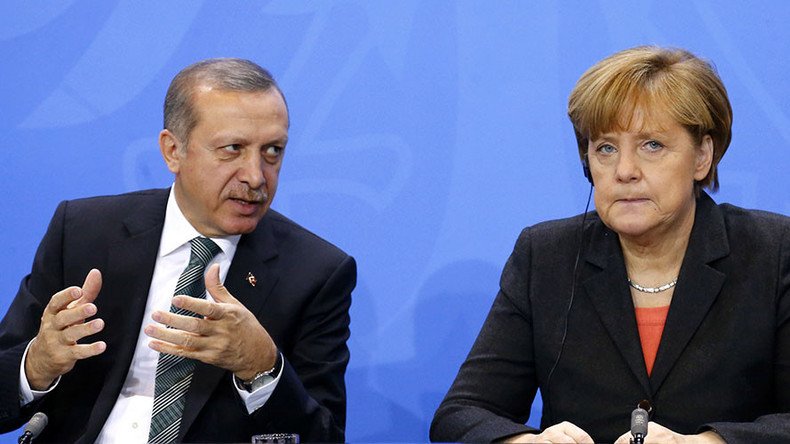 The majority of Germans want to see Chancellor Angela Merkel take a strong stand against the Turkish president and stop caving in to his demands even if it undermines the EU refugee deal with Ankara, a recent poll has shown.
The survey which found that as many as 77 percent want Merkel to stand up to President Recep Tayyip Erdogan was published on Tuesday by Stern-RTL.
The poll also witnessed an 8.5 percent drop in backing for Merkel's Christian Democratic Union and its Bavarian sister party the Christian Social Union.
The news coincides with Erdogan's latest threat to suspend the EU migrant deal signed by Turkey if Ankara is not provided with a visa-free travel to Europe.
"If that is not what will happen... no decision and no law in the framework of the readmission agreement will come out of the parliament of the Turkish Republic," Erdogan said at the World Humanitarian Summit in Istanbul on Tuesday.
READ MORE: 2 in 3 Germans want Merkel out after next year's elections

Merkel insists that to implement the visa-free travel agreement, Turkey needs to change its anti-terror legislation and to fulfill all 72 requirements mentioned in the refugee deal. Berlin has recently announced that visa-free travel will not be implemented until 2017 due to Ankara's "controversial anti-terrorism laws." Ankara, in turn, said it will by no means change its anti-terror laws which it claims are only meant to help tackle the threat posed by Kurdish militants in the southeast of the country, as well as the threats posed by Islamic State (IS, formerly ISIS/ISIL).
"Turkey is supposed to fulfill criteria? What criteria are these I ask you?" Erdogan asked at the end of the summit.
Erdogan is using the refugee crisis to "blackmail Europe" and get the visa-free travel, Kani Xulam from American Kurdish Information Network told RT. "If he gets a free-visa travel he will basically export the Kurdish question to Europe, and that I don't think Europeans are ready for," he added.
The hasty deal signed between Brussels and Turkey in March stipulated that all refugees and asylum seekers arriving on Greek shores illegally would be sent back to Turkey.
For each Syrian migrant returned, the EU agreed to take in another Syrian who has made a legitimate request. In return, the bloc promised to give Ankara additional funding of some €6 billion ($6.8 billion) and hold enhanced talks on Turkey's potential EU membership.
According to another poll released by ARD-Deutschlandtrend in April, 56 percent of Germans described the deal as 'rather bad', compared to 39 percent rating it 'rather good'.
While Merkel repeatedly praised the agreement saying it would alleviate the crisis, human rights groups, including the UN Refugee Agency and MSF denounced the "quick-fix" and "short-sighted" refugee deal.
"The 'EU-Turkey deal' effectively outsources caring for these people to Turkey in exchange for, among other things, a multibillion euro financial aid package," Joanne Liu, MSF International President, wrote in an open letter. "This aid is now conditional on shipping suffering offshore, betraying the humanitarian principle of providing aid based on need alone."
The UN Refugee Agency earlier said the deal was "not consistent with international law" as "collective expulsion of foreigners is prohibited under the European Convention on Human Rights."
Overall the migrant deal does not look "promising" for the EU and is on the brink of falling apart, believes Xulam.
"If Turkey was truly wanting to join the EU, Turkey would have a democratic country…It would respect the Constitution, the checks and balances. Since Erdogan became president he has basically bypassed the parliament and the prime minister's office. And now he's threatening Europe with opening his borders," he said. "It doesn't look promising at all."
Merkel has also fallen under a wave of sharp criticism since she gave the greenlight to the prosecution of a German comedian who recited a poem insulting Erdogan. Critics said that she was compromising freedom of speech so as not to "upset" the Turkish president, who has become a key player in the refugee deal.
"Prosecution of satire due to 'lese majeste' does not fit with modern democracy," Thomas Oppermann, Social Democrats (SPD) leader in parliament, said.
Merkel must now "live with the accusation that the deal with Turkey is more important to her than defending freedom of the press," said Anton Hofreiter of the opposition Greens.
In March, German comedian Jan Bohmermann recited the poem, in which he stated that the Turkish president had an inclination to zoophilia and enjoyed watching child pornography. In response, Erdogan requested that the German government prosecute the comic. Chancellor Merkel complied with the request.
You can share this story on social media: