Poland introduces NATO lessons in schools ahead of Warsaw summit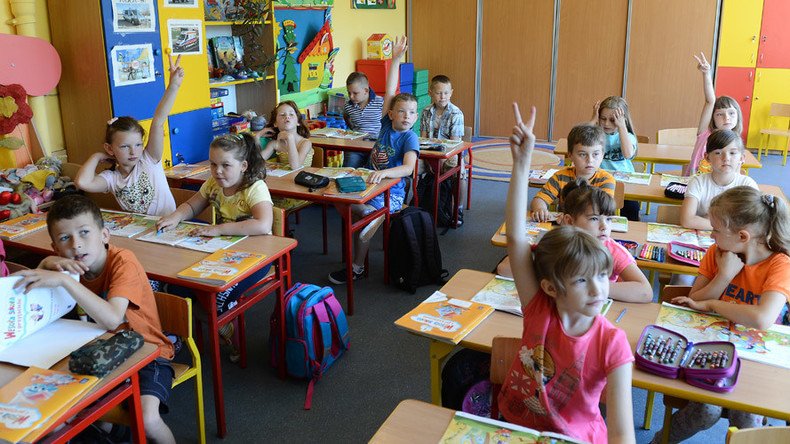 Polish schoolchildren will start learning about NATO along with national history and other civic studies as Warsaw prepares to host a NATO biennial summit in July.
The Polish Foreign Ministry has proposed introducing classes about NATO that will promote the alliance and explain its role in Poland.
Poland is among the nations at the forefront of the US-backed campaign to put more troops in Eastern Europe. They are justifying the buildup by a perceived threat from Russia, which Moscow denies exists.
Free books about NATO's importance for Poland have also been distributed to every school and library in the country.
"It is a very good idea that experts from the [foreign] ministry or from NATO come to schools," Aleksandra Kusmierz, a civic studies professor at a high school in Stalowa Wola, told the Financial Times. "Every student in my school would have something to say about it," she added.
Viewing the alliance as the principle guarantor of Poland's security, Warsaw appears to be ready to allow the permanent presence of foreign troops on its territory.
"I feel safe knowing that Poland is [a] member of NATO because the EU does not have any army and is not united on the military field and NATO is," the FT cites 18-year-old high school pupil Michal Korkosz as saying.
On May 16, Polish Foreign Minister Witold Waszczykowski claimed that Russia poses a bigger existential threat to Europe than Islamic State (IS, formerly ISIS/ISIL) and other terrorist groups.
"By all evidence, Russia's activity is a sort of existential threat because this activity can destroy countries," Waszczykowski said while visiting the annual Globsec security forum in Bratislava, Slovakia. "We also have non-existential threats like terrorism, like the great waves of migrants," the Polish FM said during his speech at a debate titled: 'Future of NATO – Will Warsaw deliver?'
In May, the US declared the deployment a missile shield to Europe, which includes the recently inaugurated missile defense base in Romania and a similar base under construction in Poland. Russia has said that this is a clear violation of Russian-American arms treaties.
Russian President Vladimir Putin has said that Moscow has made every effort to maintain the strategic balance of power, in order to avoid the outbreak of large-scale conflict.
"Now, after the deployment of those anti-missile system elements, we'll be forced to think about neutralizing developing threats to Russia's security," he said earlier in May. "Recent developments indicate that the situation isn't getting better. Unfortunately, it's deteriorating."
Simultaneously with Romania coming online, NATO is beginning construction on another base in Poland, which will complete the Eastern European segment of the shield in 2018.
You can share this story on social media: