US drone strike on Taliban leader in Pakistan 'violation of sovereignty' – Foreign Ministry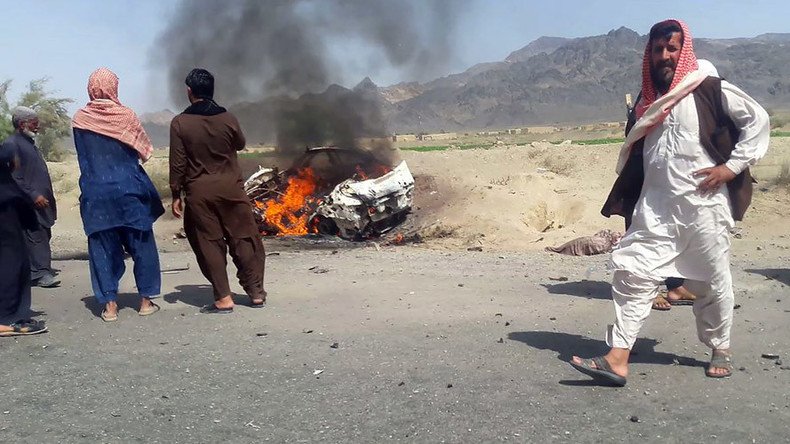 Islamabad has denounced Washington's attack on a Taliban leader on its territory, with Pakistan's Foreign Ministry calling it "a violation of sovereignty." The government was allegedly only informed of the operation after it had already been carried out.
"Pakistan wishes to once again state that the drone attack was a violation of its sovereignty, an issue which has been raised with the United States in the past as well," the ministry said in a statement issued to the media on Sunday.

The US reportedly killed Afghan Taliban leader Mullah Mansour in a targeted drone strike in a remote area of Pakistan near its border with Afghanistan on Saturday. Pakistan does not dispute the claim that Mansour was killed, but says further investigation is underway.
Islamabad said that US officials informed the country's prime minister and army chief of the strike only after it had been completed. US Secretary of State John Kerry said earlier that Pakistani Prime Minister Nawaz Sharif had been notified of the air strike in a telephone call, but declined to elaborate on the timing.

Claiming that Mansour had posed an "imminent threat" to the Afghan and US people, Kerry called Saturday's operation an "appropriate response." US officials said earlier that multiple drones had been deployed in the strike, which was authorized by President Barack Obama.
Pakistan also accused the US of interfering in the peace process in neighboring Afghanistan, saying that the strike allegedly killing the Taliban leader was carried out amid international talks aimed at drawing the militant organization into negotiations. "A politically negotiated settlement was the only viable option for lasting peace in Afghanistan," the foreign ministry said.

The latest round of talks, in which diplomats from Pakistan, Afghanistan, the US, and China participated, took place in Islamabad just days before the targeted strike on Mansour. The Taliban chief had assumed leadership of the terror group last year after the announcement of the death of its founder, Mullah Mohammad Omar.

Washington has been carrying out drone operations against various militant groups in the Middle East, prompting criticism from some governments.

READ MORE: Libya slams US airstrike on Sabratha as flagrant violation of sovereignty

Pakistani politicians have previously stood up to the US over its drones strikes, which have resulted in the death of both terrorists and civilians on its territory. In an exclusive interview with RT, prominent Pakistani opposition figure Imran Khan said that such operations not only undermine prospects for peace in Afghanistan, but threaten security in Pakistan as well. Massive rallies against such operations organized by Khan have attracted over 200,000 people.
READ MORE: 'No doubt' US drone strikes killed civilians, Obama says

According to a report from the London-based Bureau of Investigative Journalism, since 2004, CIA drone strikes have killed nearly 2,400 people in Pakistan alone, only 84 of which had been named as members of a terror group. Obama acknowledged in April that innocent civilians have been killed in US drone strikes, which are carried out throughout the world, despite intelligence on targets being "triple-checked."
You can share this story on social media: