Libya slams US airstrike on Sabratha as flagrant violation of sovereignty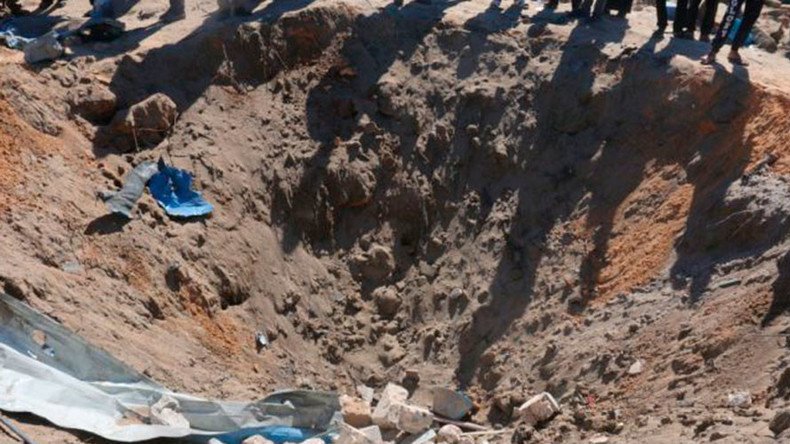 The Libyan interim government has condemned the US airstrike on a suspected Islamic State training camp in Sabratha in which two abducted Serbian embassy staff were killed, calling the unsanctioned bombardment a grave violation of its sovereignty.
Libya's interim government issued a statement saying that it "strongly condemns the airstrikes carried out by the US Air Force at certain positions in the town of Sabratha on Friday morning, February 19, 2016, without any coordination or consultation with the interim Libyan government."
"Any interference, similar to the one that has taken place, will be considered an open and flagrant violation of the sovereignty of the Libyan state and international law," the statement said.
The interim government said that it values the foreign assistance it receives in the war on terror, but added that "any military or political interference into Libyan affairs should be performed in a legal way through parliament and the newly formed government."
In the statement, the government also said it "places the responsibility for the worsening of the domestic economic and social situation, as well as the security situation that contributed to the spread of these organizations (Islamic State) in our country, on the international community."
The Friday airstrike carried out by the US in western Libya reportedly killed more than 40 people and was hailed as a major success by the Pentagon.
However, two Serbian hostages – embassy communications chief Sladjana Stankovic and her driver Jovica Stepic – also died in the bombardment, which came just as ransom negotiations had gotten underway with the kidnappers.
Serbian Prime Minister Aleksandar Vucic said that Belgrade "demanded explanations from the US about whether they knew that foreigners were present at the site. They said they didn't."
Stankovic and Stepic were abducted in the northwestern coastal city of Sabratha on November 8, 2015, when their car was hijacked by gunmen after becoming separated from a convoy carrying Serbia's ambassador to Libya.
READ MORE: 2 Serbian embassy staff kidnapped by ISIS killed in US bombing in Libya
The circumstances of the two Serbs' alleged deaths are reminiscent of those of Italian Giovanni Lo Porto and American Warren Weinstein, who were killed by an alleged US drone strike on a Taliban compound in January, 2015.
The US has failed to address the real problems that Libya faces and creates even more problems by carrying out aerial bombardments and "other types of operations" inside Libya, Abayomi Azikiwe, an editor of the Pan-African News Wire, told RT, commenting on the incident.
You can share this story on social media: