Fallujah civilians told to flee as Iraqi troops prepare to attack ISIS
Published time: 22 May, 2016 13:44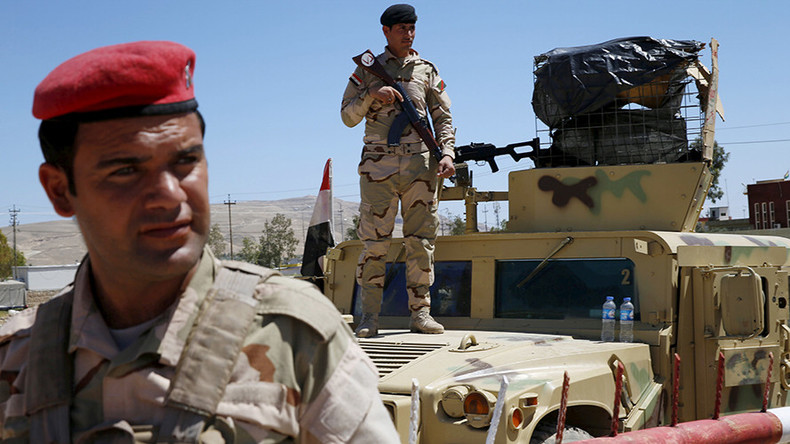 The Iraqi Army is preparing to retake the besieged city of Fallujah from Islamic state militants, officials said, calling on all civilians to flee the area via secured routes.
"The citizens who are still in Fallujah [should] be prepared to leave the city through secured routes that will be announced later," Iraqi army said in a statement released on Facebook.
Those families who cannot leave the besieged city should raise white flags to mark their location in the city, the army added.
Khaled al-Obaidi, the Iraqi defense minister, confirmed to RT Arabic that the Iraqi army is planning to retake Fallujah, an ISIS stronghold.
Obaidi said that one of the primary tactics of Islamic state militants is destruction of infrastructure, adding the extremists may blow up bridges in some cities to frustrate Iraqi army efforts.
However, Iraqi troops are ready to construct temporary bridges which can help to deliver aid to besieged regions, he said.
Fallujah which once was a prosperous place called "a city of mosques," now looks completed devastated. Since IS militants took control of Fallujah in January 2014 scores of local residents have been killed, many of them starved to death.
READ MORE: 'Save us from ISIS or bomb us with chemical weapons,' pleads Iraqi woman in emotional FB video
According to 2010 data, over 320,000 people were living in Fallujah. In April, Human Rights Watch (HRW) released a report, saying that at least 90,000 residents are trapped and are at serious risk of starvation in Fallujah.
The people can't leave because IS doesn't want its new kingdom to look like it can't sustain life. Grotesquely, they execute those that try, witnesses told HRW.
Food prices in the city are off the charts, with a 50kg bag of flour – something that costs around $7.50 in the US – costing $4,166 in one case noted by HRW.
RT visited the besieged city in February and saw areas ravaged in the battle against IS in Iraq. Cars caught in shelling and dilapidated buildings where people once lived and prayed now look like scenes from a post-apocalyptic movie.
The main battles between Iraqi forces and IS extremists have been taking place to the northwest of Fallujah.
IS emerged in Iraq in 2013 as an Al-Qaeda affiliate. In 2014, the terror cell attacked Kurdish-held territory in the northern part of Iraq and seized territories in Iraq's Sunni heartland, including the cities of Mosul and Tikrit. By August of 2014, IS controlled nearly a third of Iraq.