'Save us from ISIS or bomb us with chemical weapons,' pleads Iraqi woman in emotional FB video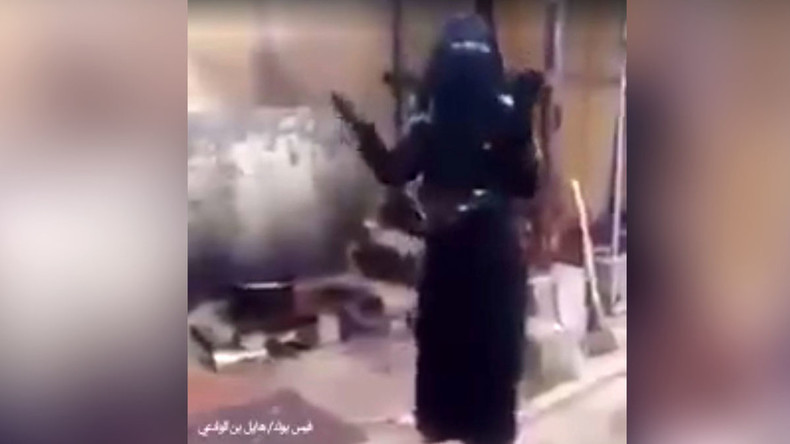 A woman presumably from Fallujah, Iraq, has made an emotional appeal in a Facebook video that can't be independently verified. She says her city is starving and called on the world to save them from jihadists or just bomb the town with chemical weapons.
The video appeared on Facebook on Thursday. Though the description under the footage says the video was shot in Fallujah, it isn't possible to independently verify the location and the date the video was recorded.
In the footage the woman claims that she and her family are starving. She is seen pointing to a tiny casserole dish, apparently containing what's left of the food for her family.
"We are dying of hunger. The Arab states, Saudi Arabia, United Arab Emirates, think of us, think of the people of Fallujah," she says, as translated by the Jerusalem Post.
She says that the four entrances to Fallujah "are blocked" and that the local residents have no "access to food, drinks or medicine."
READ MORE: Ugly scars of war & destruction: RT crew goes to Fallujah and Ramadi, Iraq [EXCLUSIVE]
"I invite you to come to Fallujah, go to the hospital and see the distress the people have been living in," she said, apparently addressing the international community.
"Save us from Islamic State [IS, formerly ISIS] or bomb us with chemical weapons so we will immediately die and not have a slow, agonizing death," she shouts emotionally.
Fallujah was heavily affected by the 2003 US-led invasion in Iraq, according to reports from Human Rights Watch. In the report dubbed 'Violent Response: The US Army in al-Falluja', the group said US authorities should investigate the apparent use of excessive force against Iraqi protesters there in April 2003.
HRW cited local witnesses who said that US soldiers fired without provocation, killing civilians.
In 2004, the Washington Post released an exclusive report, claiming US deployed phosphorous weapons in the city.
"Insurgents reported being attacked with a substance that melted their skin, a reaction consistent with white phosphorous burns," the paper stated.
The city of Fallujah in Anbar province was once a prosperous place called "a city of mosques." However, it now appears to be completely deserted since IS militants took control of it back in January 2014. Since then scores of local residents have been killed, many of them starved to death.
RT visited the besieged city in February and saw areas ravaged in the battle against IS in Iraq. Cars caught in shelling and dilapidated buildings where people once lived and prayed now look like scenes from a post-apocalyptic movie.
The main battles between Iraqi forces and IS extremists have been taking place to the northwest of Fallujah.
IS emerged in Iraq in 2013 as an Al-Qaeda affiliate. In 2014, the terror cell attacked Kurdish-held territory in the northern part of Iraq and seized territories in Iraq's Sunni heartland, including the cities of Mosul and Tikrit. By August of 2014, IS controlled nearly a third of Iraq.