One reported dead following anti-government riots in Chile (PHOTOS, VIDEO)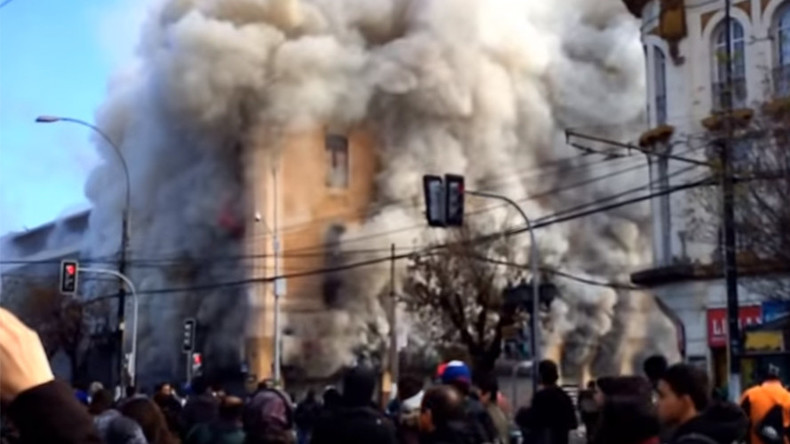 At least one person reportedly died when a building was torched during a protest in the Chilean city of Valparaíso. The building was lit on fire following an anti-government march.
Around 300 hundred protesters were expected to descend on Valparaíso, located around 115 kilometers to the northwest of the capital, Santiago, to march to the National Congress where President Michelle Bachelet was giving her State of the Nation address on Saturday.
Protesting political corruption and police brutality, the demonstration turned violent when "hooded men" allegedly used Molotov cocktails to torch two buildings, some of whom can be seen in the videos below. A number of buildings were looted as well.
The biggest fire was at the Ahumada pharmacy in the Pedro Montt area of the city, where a security guard reportedly died from injuries suffered in the blaze, according to local media.
At least two firemen also suffered injuries when trying to get the fire under control as some protesters reportedly threw stones at them.
Smoke from the building and a separate fire at a small telephone company office nearby has spread across the city. Locals are warned to stay clear of the area due to the possibility of smoke inhalation.
"There is nothing to justify the fact of vandalism," said Marcelo Díaz, Chile's Minister General Secretariat of Government.
Chileans celebrate "Navy Day" on May 21, which commemorates the Battle of Iquique that took place on May 21, 1879 in the War of the Pacific. It is considered a very important holiday in Valparaíso, a port city.
Saturday also marks the first anniversary of another protest in Valparaíso over free education that saw Rodrigo Aviles, a student, put in a coma after being knocked unconscious when police used water cannon against the demonstrators. He is still recovering from his injuries.