German air authority let radical Islamist work at Berlin airports, ignored warning – report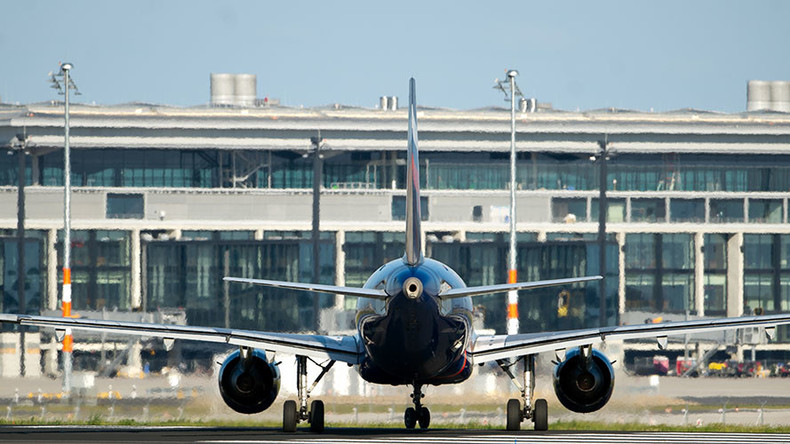 A Turkish-born airport cleaner known to the authorities as a hardline Islamist had an access to major German airports' most sensitive security areas almost a year after Berlin authorities briefed an airport safety watchdog of his ties to radical beliefs, a report has revealed.
The employee, identified in a new report by Germany's Morgenpost on Wednesday as "Recep Ü," was eventually sacked in October 2015 after four years of working for the German airport operator FBB, which runs Berlin's Tegel and Schönefeld airports. However, his dismissal was triggered not by concerns over a possible terrorist threat but by a separate incident involving a security breach. He had been apprehended by airport security officers while attempting to smuggle a knuckle-duster into the security area of Schönefeld airport, the newspaper reported.
Following the incident, the cleaner's pass to the security areas was immediately revoked by the FBB and an investigation was opened into the incident, which resulted in a fine for breaching German weapons legislation. In addition, Recep Ü has since been banned by the FBB from entering the premises of all Berlin airports, Berliner Zeitung reported.
However, prior to the past week, FBB was unaware that German security service and police had known about strong ties of the 26-year-old man to Islamic fundamentalism. This was known since 2013 after an oral tip about him being an active Salafist was given to the police, according to the paper.
Police say they passed information on the man's Islamist ties to the General Aviation Safety Authority for Berlin and Brandenburg in late 2014, but no action was taken, as the agency apparently didn't hand over the data to any airport operator.
The security services' findings reportedly came as a total surprise to the FBB. Information "that in respect of this person other intelligence was gathered on a different matter" was forwarded to the operator only "in the past week," according to FBB spokesman Lars Wagner.
The Wisag Group, the airport contractor that employed the cleaner, also denied it had been in possession of any data concerning the worker's Islamist background.
"We were informed about the steps taken by the authorities via the airport operator last week," the company's spokeswoman, Verena Wasner, told Morgenpost.
Berlin authorities told the outlet that the man, then 24 years of age, was an active member of a Salafist movement in Berlin, kept in touch with other suspected extremists and engaged in various Islam-promoting activities, such as distributing copies of the Koran. On his FB page, he reportedly shared videos by Islamic preachers Pierre Vogel and Sven Lau. The latter is currently under investigation for obtaining night-vision equipment and sending it to a jihadist group affiliated with Islamic State (IS, formerly ISIS/ISIL) terrorists fighting in Syria.
The cleaner, some of whose duties were to clean aircraft cabins after landing, was required to meet stringent security requirements imposed by the German air security laws. He successfully completed a background security check in 2011 and received a permit to work in airport security zones.
Following the revelations about lack of security at Berlin's key airports, opposition politicians have called on the authorities to investigate security loopholes.
"It should be known that there are violent followers among Salafists, and it should be known that terrorists are searching for most critical areas to attack, for example, airports," Hakan Tas, spokesman for the Germany's Left Party said, adding that her party would initiate a parliamentary debate aimed at determining who was to blame for the oversight.
Germany's domestic security agency, the Federal Office for the Protection of the Constitution, said that it "of course submitted all findings to the respective authorities," Morgenpost reported.
You can share this story on social media: