'Does not appear to be an attack': B-52 bomber crashes in Guam, crew make it out alive (VIDEO)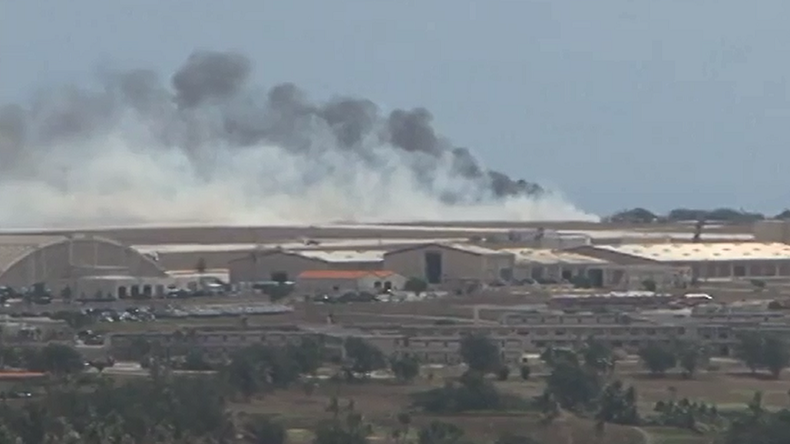 The US Air Force said a B-52 bomber crashed at Anderson Air Force Base in Guam shortly after takeoff during a training exercise on Thursday. All seven crew members exited the plane before it burst into flames, and no injuries were reported.
Anderson Air Force Base's Public Affairs Office confirmed that the accident occurred on Thursday morning at 8:30 am (GMT) when a B-52 bomber ran off the runway, aborting takeoff and catching fire during a routine training exercise.
"The military is setting up an incident command and they have engaged our government for help," said the AAFB in a released statement. "We assure the public this does not appear to be an attack, and we highly discourage anyone from spreading assumptions, or any information that does not come from Civil Defense or the military itself."
Rolenda Faasuamalie, a spokeswoman for Guam International Airport Authority, said an airport fire-fighting unit was deployed, according to the Pacifica Daily News. The fire trucks arrived with sirens blaring at about 9:45 am. Smoke could be seen billowing on the horizon from the northern end of the runway.
The bomber had been sent to Guam from Minot, North Dakota to help maintain the military's continuous bomber presence in the Pacific, according the Air Force.
The Associated Press reported that the military has been rotating B-1, B-2 and B-52 bombers in Guam since 2004 in order to boost the US' security presence in the Asia-Pacific region. The crew members were with the 69th Expeditionary Bomb Squadron.
A B-52 Stratofortress is a long-range, heavy bomber aircraft with a wingspan of about 185 feet (56m) and a length of 159 feet (48.4m), or more than half a football field, according to the Air Force website.
The incident is under investigation, and officials were taking steps to mitigate possible unspecified environmental effects, the Air Force said.
Guam is a US territory located in the Pacific Ocean some 3,700 miles southwest of Hawaii.
A B-52 crashed off Guam killing all six crew members on board in 2008. The plane had been flying around the island as part of Guam Liberation Day celebrations, marking the day when the US military arrived and captured the island from Japan during World War II. The B-52 had been scheduled to conduct a flyover during a parade.
You can share this story on social media: