Glitter & unicorns for 'Soldiers of Odin' as feminist trademarks name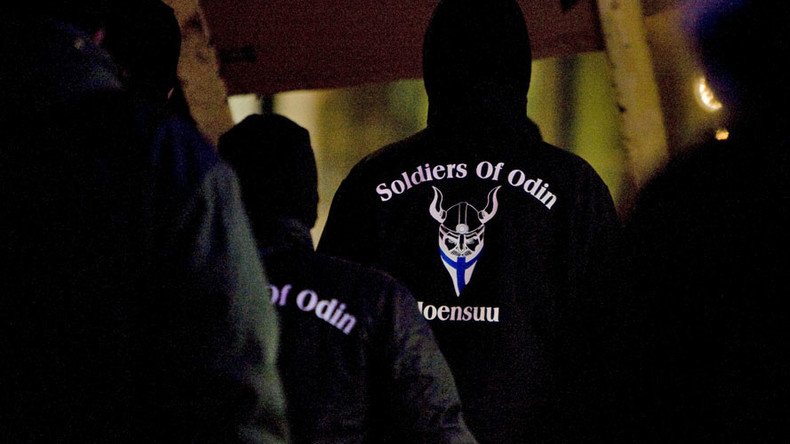 The anti-immigrant street patrol group 'Soldiers of Odin' are now a registered trademark thanks to a Finnish feminist who plans to associate the group's name with lots of "unicorns and glitter".
Riikka Yrttiaho, a student in Sweden, filed the trademark application with the Finnish Patent and Registration Office (PRH) in February - the same month that the group achieved 'association' status from the PRH.
READ MORE: 'Soldiers of Odin': Finnish anti-migrant group with 'extremist features' takes to patrolling streets
While the group's successful 'association' application means they can legally engage in publishing activities and sell clothing, the trademark - approved in April according to the PRH database - covers the sale of 'Soldiers of Odin' garments, footwear and headgear until April, 2026.
Yrttiaho's trademark details cover dozens of clothing items including swimwear, three-piece suits, water resistant clothing, and maternity wear.
The trademark means that 'Soldiers of Odin' members can no longer profit from clothing or packaging which bears the trademarked 'Soldiers of Odin' name.
READ MORE: Finland's anti-migrant 'Soldiers of Odin' street patrols extend to Norway
"There are plans underway to manufacture high quality local handicraft, and there'll be no lack of unicorns and glitter," said Yrttiaho told Yle.
"As long as a racist street patrol group is allowed to operate in Finland as a registered organization, there may also be room for harmless groups to register and organize," Yrttiaho added.
The two-month period in which anyone can file an opposition to the trademark's approval expires June 29.
READ MORE: Anti-migrant group 'Soldiers of Odin' expands street patrols to Sweden
Apart from Finland, the far-right militia group also has a presence in Sweden, Estonia and Norway. The vigilantes have about 100 full members in Sweden and almost 5,000 supporters since its creation in late 2015, according to Mikael Johansson, the group's spokesman.
Finland's Interior Minister, Petteri Orpo, has described the group, which claims to be carrying out patrols to protect Finns from immigrants, as "extremist features" which "do not increase security."
You can share this story on social media: