Finland's anti-migrant 'Soldiers of Odin' street patrols extend to Norway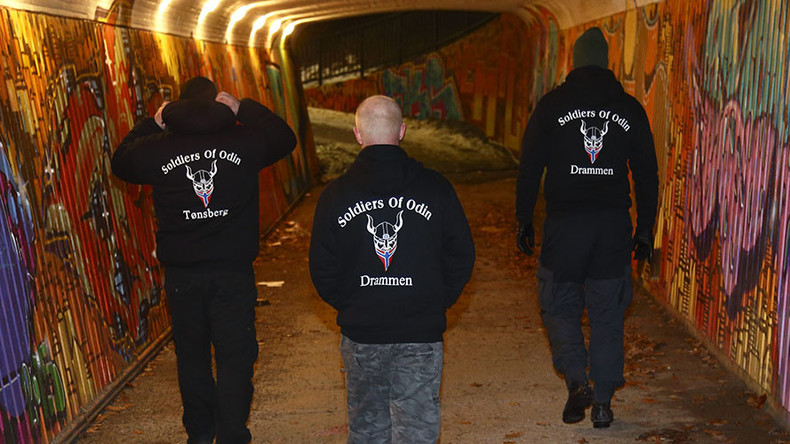 The Soldiers of Odin group debuted in Norway this week as dozens of men patrolled the streets of several towns in the country, securing streets from "delinquency" that the police are "unable to address."
Volunteer patrolmen wearing black bomber jackets emblazoned with the group's Viking helmet logo were seen in Stavanger, Drammen, and Kristiansand over the weekend.
"We want the streets to be safe, we want to get rid of the delinquency we see in Norway today which the police are unable to address," Ronny Alte, the Soldiers of Odin's Norwegian spokesman, told AFP.
According to Alte, "drugs are being sold, girls are being touched, there are assaults and violence" as a result of the 31,000 asylum seekers that arrived in Finland last year.
"A large part of the crime we are focusing on is the result of the illegal immigration in Norway after Europe opened its borders," the spokesman said.
A week before, the Soldiers of Odin patrolled the town of Tonsberg in south of the country, but received backlash from some locals who said they didn't need the protection.
The Soldiers of Odin were assembled in Finland in late 2015 as response to the European migrant crisis. The Finnish group has been blamed for links to Neo-Nazi circles, but Alte said that its Norwegian branch "represents the entire political spectrum."
The Soldiers of Odin – named after a wise, but violent Norse God – are also represented in Denmark and Sweden.
The arrival of the volunteer patrollers in Norway didn't go unnoticed by local law enforcement.
READ MORE: Estonian Defense Ministry doesn't want anti-migrant groups patrolling streets
The police checked the IDs of the Soldiers of Odin in Drammen and also made sure that none of them had firearms in their possession. In Kristiansand, members of the group were only allowed to hand out pastries and coffee to citizens.
The Norwegian police are "generally skeptical of groups like the Soldiers of Odin," Atle Roll-Matthiesen, a high-ranking officer, told AFP.
"The use of names and symbols, and the fact that some of the members of the group have links to criminal circles, cement this skepticism," Roll-Matthiesen noted. "It's not acceptable that groups act or give the impression of being some kind of citizen self-defense group... Only the police are authorized to carry out policing duties."
On Friday, Socialist Left Party MP Kirsti Bergsto demanded that the government determine the legality of the Soldiers of Odin patrols, stressing that the group's actions "clearly have a racist starting point."
In her interview with local NRK, she pointed out that a fresh report from Norway's intelligence agency, PST, warned that the "threat from far-right circles was growing in Norway" due to the migrant crisis.
You can share this story on social media: