2 powerful earthquakes rock Ecuador within 24hrs, 1 dead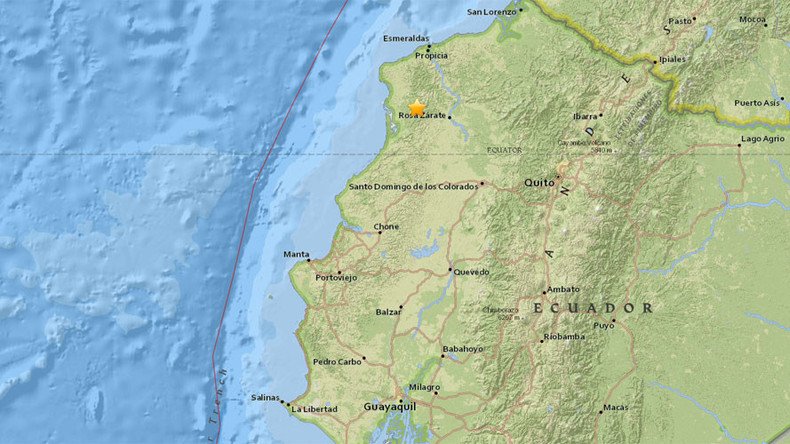 Ecuador has been hit by two earthquakes within 24 hours, with the latest 6.8-magnitute quake reported northwest of the country's capital, Quito. One person was killed and 85 others injured in the disaster.
One person, a senior citizen, died and 85 others were injured in the two quakes, Rafael Correa, Ecuadorian President, said.
The epicenter of the first tremor, which happened overnight, was near the fishing village of Mompiche on the Pacific coast, about 368 kilometers from Quito, President Correa said earlier.
"There are some light injuries because people ran out, or bumped into things," Correa said on national TV.
According to Ecuador's president, some minor damage was inflicted on infrastructure, which had already been damaged in a large quake on April 16.
"Despite the alarm and the scare and the possibility of new damage... it's normal, you expect aftershocks for two months after [the April quake]," Correa explained.
One person was injured when a wall collapsed and five others were hurt as they fled a building in panic, said Cesar Navas, security coordination minister, according to Reuters.
The epicenter of the second earthquake, which hit midday, was 82 kilometers south of Esmeraldas on the northwestern coast of the Andean country, the US Geological Survey said.
USGS initially gave the second quake a magnitude of 6.9, but then revised the figure down to 6.8.
President Correa wrote on Twitter that some coastal areas were left without power due to the quake, adding that schools would be closed nationwide as a precaution.
Twitter users posted pictures of the devastation online, claiming that people were trapped under the rubble in a collapsed bank in the city of Portoviejo.
The tremor saw hundreds of students evacuated from education institutions in Ecuador's most populated city of Guayaquil.
More than 600 people were killed and over 2,500 injured in a 7.8-magnitude earthquake that struck off the Ecuadorian coast in April. That quake was followed by a series of strong aftershocks. The disaster ravaged coastal towns and left thousands of households without power.
READ MORE: 6.2 tremor strikes off Ecuador coast days after deadly quake which killed over 400
You can share this story on social media: