Stunning VIDEO of first-ever rocket launch from Russia's new spaceport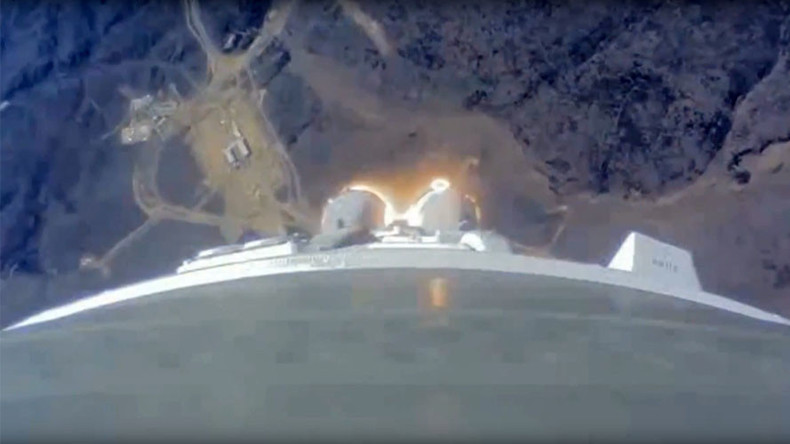 Roscosmos, Russia's space agency, has released new footage containing breathtaking views captured by a Soyuz rocket's on-board cameras during the first space launch from the brand new Vostochny Cosmodrome in Russia's Far East.
The first lift-off from the spaceport took place on April 28 at 5:01 am Moscow time (02:01am GMT). The Soyuz-2.1a rocket took off into orbit carrying three scientific and distance viewing satellites.
The video shows the brutal force of the rocket's launch up close, before it is seen boosted up, followed by a fiery blaze.
Eight minutes 44 seconds after launch, the Volga upper stage is seen successfully separating from the Soyuz rocket. All three satellites were successfully deployed in their specified orbits.
READ MORE: Russia's brand new cosmodrome launches first-ever rocket
The Volga payload assist module was deorbited and the remains that didn't burn up during re-entry sank in an unnavigable zone of the Pacific Ocean, according to the press service of the Defense Ministry's Aerospace Forces.
The launch was delayed from the originally scheduled December 2015 date because construction of the launch pad and other facilities went over deadline. Construction began in 2010, but was initially mired in corruption scandals. Vice-Prime Minister Dmitry Rogozin was later appointed to personally oversee the process.
The new cosmodrome can handle up to 10 launches annually, and the first manned mission to the International Space Station is expected to be launched from Vostochny after 2023.
The Vostochny Cosmodrome is located in the Amur region in Russia's Far East and occupies about 700 square kilometers.