Young women sexually harassed & robbed in Cologne-style attack at Berlin street fest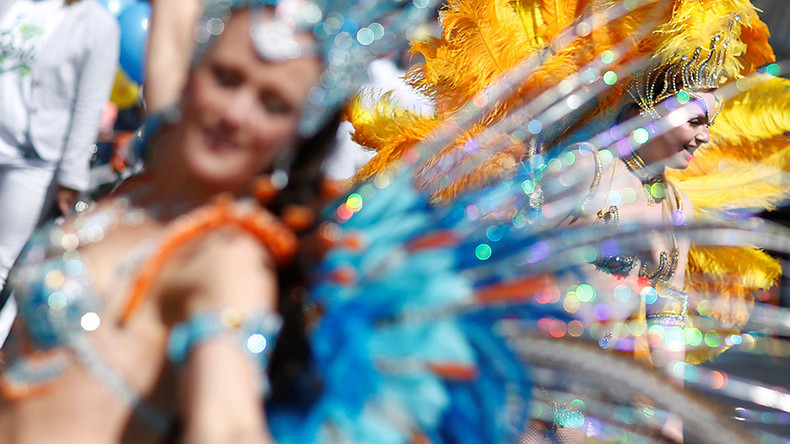 Two female teenagers, 17 and 18 years old, were sexually harassed by a group of 10 men during a street festival in Berlin. The assault brought back memories of the Cologne sex attacks, which occurred during New Year's Eve celebrations in Germany.
According to police, a group of around 10 young men surrounded the women as the two were dancing in front of a stage at the "Karneval der Kulturen" festival on Saturday night, the Frankfurter Allgemeine Zeitung reported.
The men allegedly pressed against the teens and groped them. The men blocked all the girls' attempts to escape. One of the assailants reportedly stole the 17-year-old victim's cell phone.
Die 3 wiedererkannten Tatverdächtigen sind polizeibekannt, 2 sind türkischer Herkunft, Herkunft des 3. ist ungeklärt. #karnevalderkulturen

— PolizeiBerlinEinsatz (@PolizeiBerlin_E) 15 мая 2016 г.
A 27-year-old bystander, who reportedly witnessed the scene, called the police. He began filming the incident after he saw one of the teens sitting down on the ground, shaking with fear. When one of the attackers in the group noticed it, he aggressively told the 27-year-old to get lost, the Frankfurter Allgemeine Zeitung reported.
Shortly afterwards police arrived and arrested three youngsters in the group, aged from 14 to 17. The stolen cell phone was retrieved and returned to the woman.
Police tweeted that the three suspects were known to the police from prior incidents, adding that "two are of Turkish descent and the third is unknown."
The "Karneval der Kulturen" ("Carnival of Cultures") is a four-day festival that celebrates diversity in Berlin. More than 800 police were on patrol during the street extravaganza, RBB 24 reported.
The latest attack is reminiscent of one in the city of Cologne during New Year celebrations, where some 1,049 people were victims of attacks allegedly committed by men of North African and the Middle Eastern descent. About 821 complaints were filed with the police. The incidents provoked huge criticism of the German police and the regional interior ministry. North Rhine-Westphalia police came under fire for silence and inactivity on New Year's Eve, and poor investigation of the crimes. Cologne Police chief Wolfgang Albers resigned a week after the incident.
It later turned out that over 1,200 people had fallen prey to attacks on New Year's Eve in four German cities, more than half of them suffering sexual assaults.
Gangs of young men, presumably migrants, also molested women in Malmö, Karlstad and Kalmar in Sweden on New Year's Eve, local media revealed in January. The news emerged after Swedish police were accused of ignoring sexual harassment at a Stockholm music festival.
Europe continues to face the biggest refugee crisis since World War II. An overwhelming 1.1 million asylum seekers arrived in Germany in 2015, and more are to come this year.
You can share this story on social media: