Colombia seizes 8 tons of cocaine in largest bust in decade (PHOTOS, VIDEO)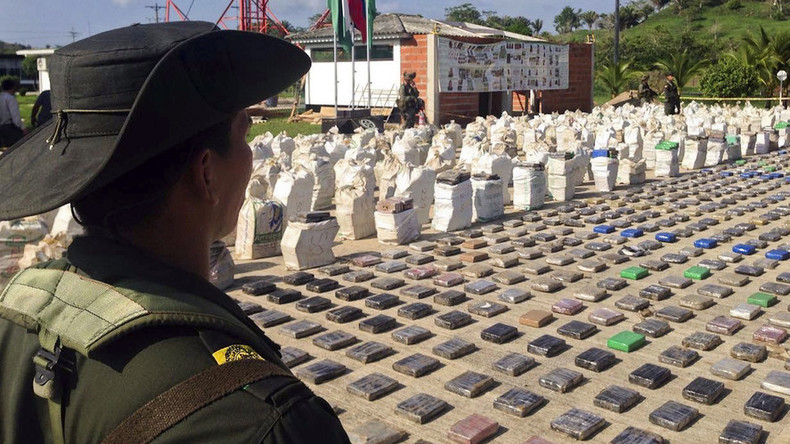 More than 8 metric tons of cocaine worth some $240 million has been intercepted by Colombian police at the border with Panama, in what the country's president praised as the biggest seizure of drugs in recent history.
The stash of narcotics was discovered at a banana plantation in the municipality of Turbo in Antioquia, police announced. The cocaine was hidden in an underground tank measuring 6.5 meters in length and 3.5 meters in width, with a depth of 2.5 meters.
The drugs were further concealed with a layer of wooden blanks with entrances to the stash hidden under a layer of cement.
The cocaine belonged to the criminal gang called the Clan Usuga, and was ready to be transported via the Caribbean Sea to Central America, where apparently it could be sent to the US.
The operation, which began on Saturday afternoon and ended on Sunday, was conducted with the support of the Aviation Police which discovered the hideout.
Once the drug-smuggler's den was discovered, a group of 50 commandos of the National Police, backed by two Black Hawk helicopters, stormed the banana farm and made the seizure, police said. Three people were arrested in the operation.
Felicitaciones @PoliciaColombia: operativo en Turbo incautó la mayor cantidad de droga en la historia. Golpe contundente a criminales.⁠⁠⁠⁠

— Juan Manuel Santos (@JuanManSantos) May 15, 2016
"The biggest seizure of drugs in history. A hit against criminals," Colombian President Juan Manuel Santos said on Twitter. Back in 2005, however, a police raid in southwest Colombia seized almost twice as much cocaine in a single raid on a jungle stronghold during which some 15 tons of narcotics were found.
Colombia produces some 442 tons of cocaine annually, according to the United Nations. Last year the country's authorities seized 252 tons of cocaine.