Soviet giant: Biggest plane on Earth AN-225 Mriya lands in Australia (VIDEOS)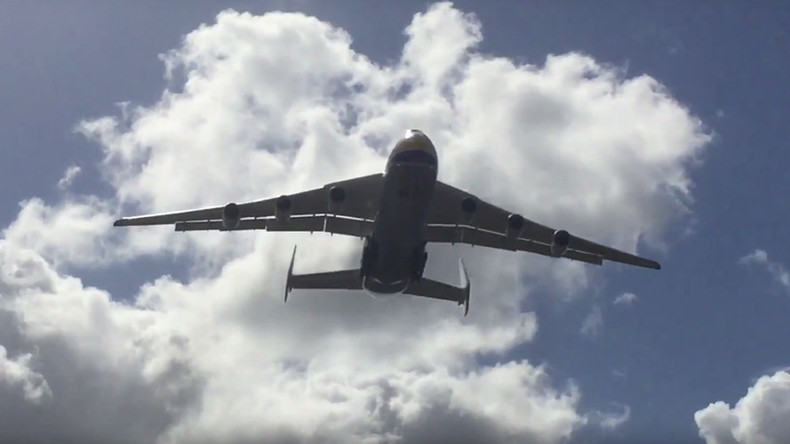 Some 20,000 Australians came out to watch the world's biggest jet, the Antonov AN-225 Mriya, land in Perth.
The thousands of excited onlookers couldn't help but cheer in amazement as the Soviet-designed cargo plane fought crosswinds while preparing to touch down on Sunday morning.
The Ukrainian Antonov An-225, also the heaviest plane in the world, measures over 275 ft (84 meters) from nose to tail and 290 ft (88 meters) from wing tip to wing tip. It can carry twice as much as the Boeing 747 freighter.
"It's the equivalent of a five-story plane flying through the air," aviation fanatic Henton Harmadi told the West Australian.
The plane's top speed is 528 miles per hour (850km/h) and it's so big it can comfortably accommodate a space shuttle on its roof. Actually, it's what it was supposed to do according to early projects: serve as a mid-air space launch pad to save on rocket fuel and logistics. The plans never came to fruition, though.
READ MORE: Ukraine liquidates legendary aircraft manufacturer Antonov
The Antonov's arrival in Australia drew huge crowds, clogging up roads near the airport. "I can't recall anything like it in Perth - ever! It's like the Woodstock of planes," Brendan Foster reported in WA Today.
Road traffic congestion in Perth meant some passionate plane spotters missed the eagerly anticipated arrival. Some motorists even abandoned their cars on the nearby motorway in their rush to make it to the landing in time.
Other enthusiasts camped in their cars overnight to ensure a front row seat.
The An-225, which was transporting a 117-tonne generator from the Czech capital Prague, will stay in Perth until it flies to Germany on Tuesday.
You can share this story on social media: