'Climate crime scene': Eco-activists block coal mine, power plant in Germany (PHOTOS, VIDEO)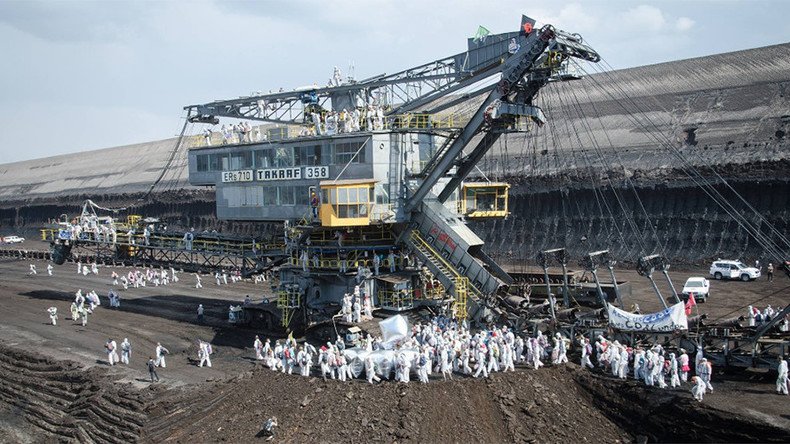 Over a thousand environmental activists from across Europe have blocked a railway line that transports coal from one of Europe's largest open-pit mines in Welzow, Germany to a nearby power plant in the country's eastern state of Brandenburg.
At least 1,600 people took part in Saturday's protest, according to the organizers, while police estimated the number at around 1,000. One group of activists occupied the railway lines to block access to the power station, while another blocked the conveyor belts that transport coal to power plants.
"Germany is the world leader in burning dirty coal," said Hannah Eichberger, a spokeswoman for the Ende Gelände environmental group, as cited by DW. "Therefore we are taking the exit from coal into our own hands and closing down one of the largest climate killers in Europe."
Two people were reportedly injured in scraps between activists and security officers as police moved in to detain some 120 people, DW reports.
Saturday was the second day of the mass demonstration that saw some 2,000 people forcing their way into and occupying the brown coal mine on Friday. The infiltrators wrapped excavation machinery with banners reading "Keep it in the Ground" and "Climate Crime Scene," while hundreds of activists spent the night on the premises in preparation for a weekend-long event.
The operator of the Schwarze Pumpe (Black Pump) power plant, the Swedish utility Vattenfall, urged police to intervene and drive the protesters out for trespassing, but a local prosecutor refused to authorize their removal because the facility is not entirely fenced off, and so the occupiers cannot be legally considered trespassers. He also noted that there had been no negative effect on production, as the company had voluntarily halted its operations in anticipation of the demonstration.
The German protest is part of a global campaign organized by international environmental groups called "Break Free" that has recently staged similar events in the US, UK, Canada, Brazil, South Africa, and other countries. Vattenfall spokesperson Peter Bergstedt told local media that if the protest continues, the plant will be forced to remain shut on Sunday.
You can share this story on social media: