Flight model of Russia's heavy duty transformer drone undergoes trials (VIDEO)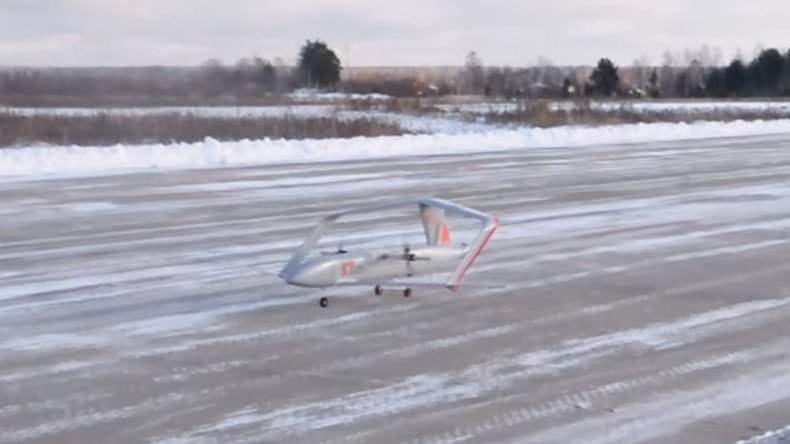 A scale model of Russia's prospective multipurpose tilt-rotor drone, the Frigate, is currently undergoing trials. The UAV is designed to be used for surveillance, search and rescue operations and cargo transportation purposes.
The Frigate unmanned aerial vehicle (UAV), being developed by the St. Petersburg-based Kronshtadt Group, is expected to become part of the Russian aviation force, which will be deployed in the Arctic region.
The footage released on Friday shows a scaled-down model of the drone in action during tests of the aerial vehicle in spring and winter.
The drone is powered by two tilt-rotors on its folding wings as well as a stationary rotor at the back. The unique design of the Frigate does not require an airfield to make the drone operational as the UAV combines both horizontal and vertical takeoff and landing capabilities, allowing it to carry out work in hard-to-reach regions.
The full-scale UAV designed for aerial reconnaissance and cargo transportation will be able to carry a payload of 1,700 kg when taking off like an aircraft and 1000 kg when taking off like a helicopter. The engine design would allow the drone to reach altitudes of 8,000 meters and remain in flight for 10 hours.
Once completed, the massive drone will have a practical range of 5,000 km and could reach speeds of up to 700km/hr. Standing proud at 3.1 meters tall, it will have a 19 meter wingspan that with folded consoles can be reduce to 10 meters. Developers expect that due to its unique characteristics the Frigate will fill the niche between planes and helicopters.
You can share this story on social media: