'Football is un-Islamic': ISIS militants gun down Real Madrid fans in Iraq
Three Islamic State gunmen burst into a café attended by members of a local Real Madrid football fan club in central Iraq, before going on a rampage through the Shiite city of Balad, 80km north of capital Baghdad.
"A group of Islamic terrorists, from ISIS [Islamic State/IS], came into the café, armed with AK-47s, shooting at random at everyone who was inside," Ziad Subhan, who heads the local fan organization, told Spanish website AS.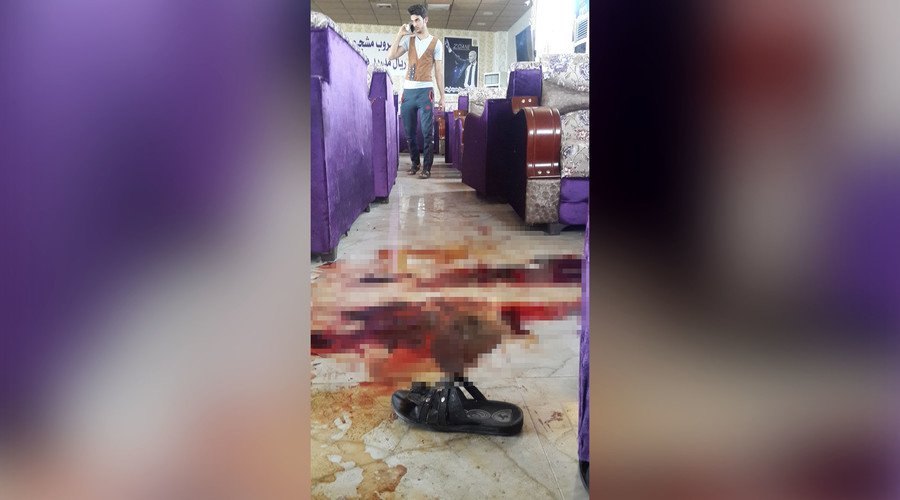 Around 50 fans were in the café, where they often gather late at night to watch live – and sometimes recorded – matches of their favorite team. The group's Facebook page said that 16 people were killed by the gunfire and 28 more were seriously injured. Police also confirmed the incident, but gave numbers of at least 13 killed and 22 injured.
La peor noticia. Estos 16 de la Peña Iraq Blancos no estan con nosotros x otro ataque terrorista. DEP 🙏🏻 X favor RT. pic.twitter.com/Gck3oWIzd1

— Christian D Paredes (@Xian_D_Paredes) May 13, 2016
Local sources said that the gunmen were able to sneak into Balad, which has been near the frontline of the battle between Islamic State and government forces, by passing three checkpoints.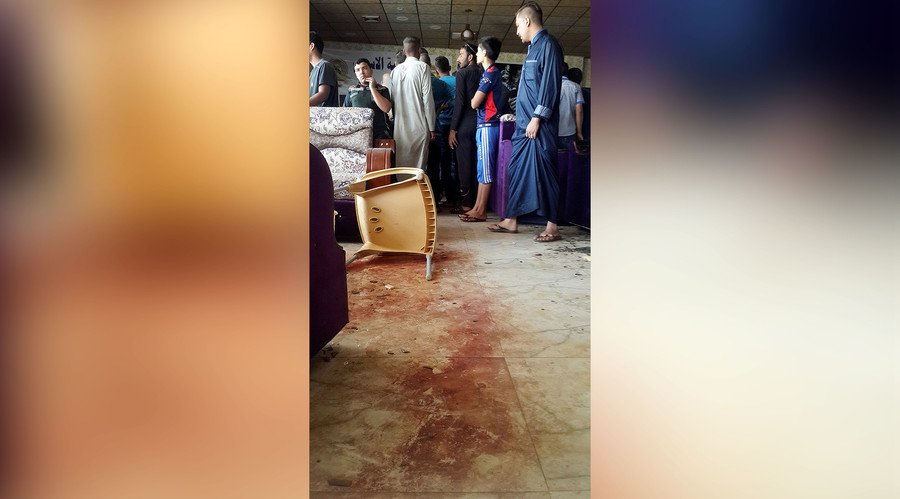 Photographs from the al-Furat Cafe show a poster of Real Madrid icon and current manager Zinedine Zidane, and below a blood-splattered floor, including trails where bleeding victims attempted to crawl away from the shooters.
"They don't like football, they think it's anti-Muslim. They just carry out attacks like this. This is a terrible tragedy," said Subhan, echoing pronouncements previously made by the radical Islamic group itself.
Reuters reported that three Sunni jihadist gunmen were able to escape from the café unscathed, before engaging in a gun battle with officers. Trapped in an abandoned building, one of the gunmen ran out and detonated his suicide vest in a vegetable market.
Security officials said that seven people died and 12 more were injured during the episode.
IS said in a statement on social media that all three gunmen committed suicide, but residents told Reuters that at least one was captured.
The gunman was then reportedly "interrogated" and "confessed" his crimes, before being set on fire by the residents, who then hung his body on public display, tying him upside down to a tree.
In what may have been an act of retribution, the Iranian-backed Badr Organization, a Shiite militia, took 13 members of a Sunni family prisoner. It is unclear whether it was directly linked to the Islamic State attack, but gunshots were heard as the arrest took place.
The latest incidents cap a week of extreme sectarian violence, even by Iraqi standards, after over 90 people died in a series of bombings in capital Baghdad on Wednesday alone.
The UN says that over 700 Iraqis – most of them civilians – died last month, and over 1,300 were wounded.
You can share this story on social media: