Sochi Olympics doping allegations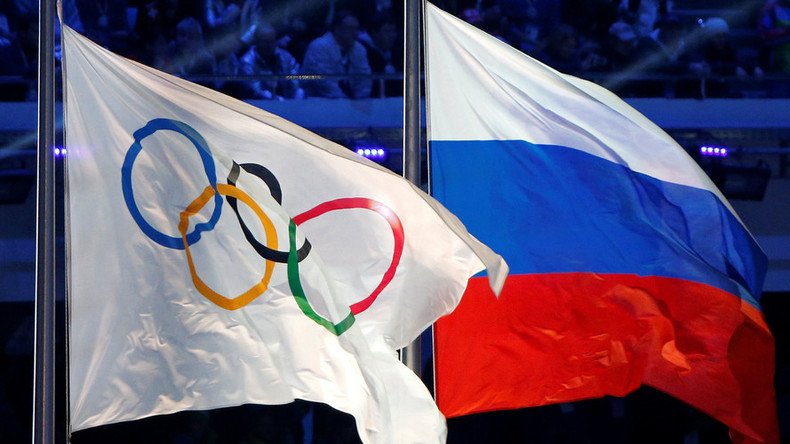 Russia says it might go to court over the groundless accusations that it has a so-called "doping program," as allegations claiming Russian athletes used doping during 2014 Sochi Olympics have surfaced in a US media report.
READ MORE: Russia may sue NYT over Sochi Olympics doping allegations
A report released in the New York Times on Thursday cited the ex-chief of Russia's anti-doping laboratory, Grigory Rodchenkov. He said Russian gold medal winners, including bobsledder Alexander Zubkov, cross-country skier Alexander Legkov and skeleton champion Alexander Tretyakov, doped during the 2014 Sochi Olympic Games.
In the report, the former chief of Russia's anti-doping laboratory maintained he "dissolved the drugs in alcohol — Chivas whiskey for men, Martini vermouth for women."
16 May 2016

10:26 GMT

The Russian Sports Ministry is to make a decision regarding whether to file a law suit within the next couple of days against the New York Times. It follows allegations by the publication that Russia implemented a sophisticated doping program during the 2014 Sochi Olympics.

"We will take a decision either today or tomorrow, after the sports ministry's legal department makes a statement," Russian Sports Minister Vitaly Mutko told TASS. "We have already been preparing for this and have been in touch with a few law firms. I am not ruling out a law suit being filed by either the ministry or the athletes," he added.

15 May 2016

08:49 GMT

Russian Sports Minister Vitaly Mutko apologized in an interview with the Sunday Times for Russian athletes caught taking illegal drugs.

"We are very sorry that athletes who tried to deceive us, and the world, were not caught sooner," he told the publication. "We are very sorry because Russia is committed to upholding the highest standards in sport and is opposed to anything that threatens Olympic values."

However, Mutko said that it would be wrong to ban Russian track and field athletes from competing in the games, adding that they would "have their dreams shattered," if they were not allowed to compete, and doping was not only a problem confined to Russia.

"It cannot be right that clean athletes should suffer for the behavior of others. In no other walk of life would this happen," he told the Sunday Times.

"Besides this, how does it make sense that Russia's athletes should be singled out as the only ones to be punished for a problem that is widely acknowledged to go far beyond our country's borders," the sports minister said.

14 May 2016

10:18 GMT

The "easiest way" to find out the truth regarding the doping accusations is to re-check all the Sochi Olympics samples, Russia's Sports Minister Vitaly Mutko told Rsport agency on Saturday.

"The doping control system during Olympic Games is under the jurisdiction of international organizations. After [the games] everything is sealed, the samples are taken to Lausanne," Mutko said, adding that it is "difficult" for him to tell whether Rodchenkov's claims hold any water.

"He is a professional, he has been part of this system for ages. And now he has put the entire IOC [International Olympic Committee] and WADA systems under pressure," the minister told Rsport.

10:02 GMT

The international community does not trust the "whole system" of Russian sports, Russian Sports Minister Vitaly Mutko said in an interview with Rsport.

"UKAD [UK Anti-Doping organization] claims that they have taken 300 samples and some 14 of them are positive, all of them [with] Meldonium. I guess all are not pleased that there is nothing in those samples but Meldonium," Mutko said, adding that his suggestion to the community would be to appoint a foreigner as head of the Moscow laboratory.

"They can choose whomever they trust," the minister said, adding that all accusations against Russian sportsmen would be investigated. If someone is really guilty, they would be punished to the extent of the law.

09:41 GMT

Russia's anti-doping authority, RUSADA could not be declared compliant with world sports rules before the 2016 Rio de Janeiro Olympics, WADA president Craig Reedie said on Saturday.

"I think it highly unlikely that that organization [RUSADA] would be compliant by the time of the games in Rio," Reedie told BBC radio, as cited by Reuters.

09:15 GMT

President of the International Ice Hockey Federation (IIHF) Rene Fasel said he was surprised by reports of Russian sportsmen allegedly doping during the Sochi Olympics, the Rsport agency said. The IIHF head told the agency that anti-doping maintenance at the games had been at the highest level.

01:22 GMT

The Swiss company which produces self-locking kits for doping samples in international competitions including Sochi Olympics, told RT that their products "are secure if used according to our users' instructions."

"The kits meet highest product standards and are checked several times before they leave our house," Andrea Berlinger Schwyter, head of Berlinger Special, stressed. "The security system is tested and certified by a neutral, independent laboratory and is specially adopted to the general doping control procedures."

13 May 2016

12:13 GMT

The IOC told AP that it is ready to discuss the doping allegations with Rodchenkov, adding that if any wrongdoing had taken place the authority "will not hesitate to act decisively to punish those responsible and to defend the clean athletes."

"We are already in touch with WADA to discuss to provide information on his claims [Rodchenkov]."

11:13 GMT

Rodchenkov's statements in the NYT article are "groundless," Kremlin spokesman Dmitry Peskov said.

"They …. are not based on reliable information," Peskov said, adding that the allegations "look like slander from a defector."