Colorful Revolution: Macedonians paintball streets in protest against government (PHOTOS, VIDEO)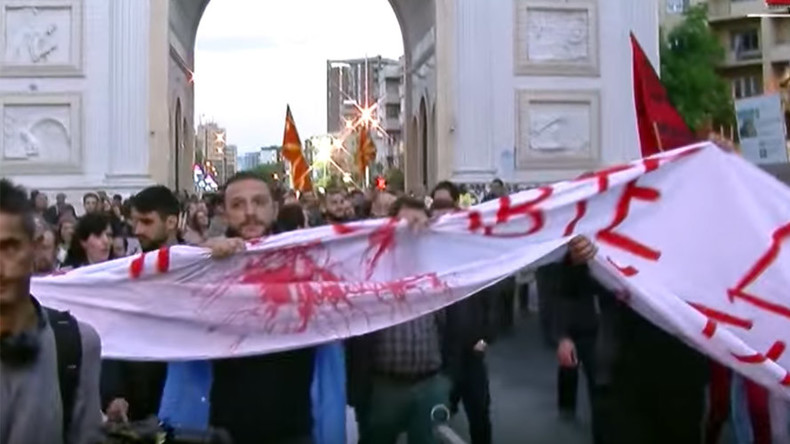 Mass protests continued in the Macedonian capital of Skopje after opposition parties boycotted EU-mediated early elections, with protesters demanding that the government, caught in a wiretapping scandal, organizes a free and fair vote.
Thousands of demonstrators used paintball guns to spray government buildings and portraits of the country's leaders, including Prime Minister Nikola Gruevski, who has been accused of usurping the country's political life by wiretapping over 20,000 top officials, journalists, judges and politicians, in a scandal that has dragged since February last year.
"The fight is disobedient but non-violent," read one poster in English. Another asked "Do you pardon criminals in the EU?" – a reference to Gruevski's decision to release 56 officials implicated in the wiretapping and other government scandals, before an investigation of their wrongdoing was abandoned without completion.
Protesters have adopted the term Colorful Revolution – in reference to its use of paint-splattering and street graffiti, but also as indication of the breadth of the opposition coalition, and its peaceful methods.
Following an EU-brokered deal the government agreed to an early election on June 5, but all but the ruling party have boycotted it, refusing to submit candidates by Wednesday night's deadline. Two parties which were to represent the Albanian population, comprising a third of the Balkan state, were the latest to drop out this week, before staging a march of approximately 30,000 supporters through Skopje.
The opposition is demanding that electoral rolls are updated, an easing of government control of the media, and an end to interference in government bodies from center-right ruling party officials. They also want investigations re-started against those implicated in wiretapping.
"We have already said that the conditions for fair and democratic elections on June 5 are not met, and that's why we won't take part in them," Luan Tresi, spokesman for DPA, one of the boycotting parties, told the Plusinfo internet portal.
READ MORE: Hundreds protest against govt corruption in Macedonian capital, clash with police (PHOTOS, VIDEO)
The US and the European Union, have both demanded that the government put off the elections until a compromise is found, and Brussels says it may introduce sanctions against Macedonia, which is not an EU member, but has been negotiating accession for over a decade.
You can share this story on social media: