Hundreds protest against govt corruption in Macedonian capital, clash with police (PHOTOS, VIDEO)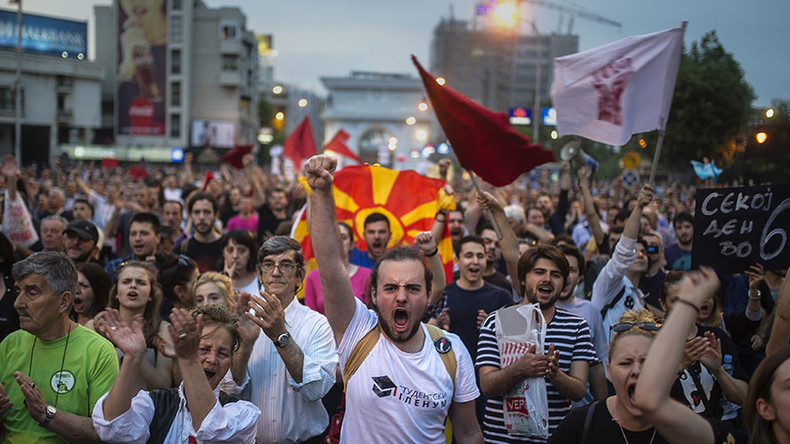 Over a thousand anti-government protesters gathered in front of Macedonian Parliament in capital Skopje to decry the president's amnesty for officials accused of fraud and corruption. Reports say they were trying to tear through police cordon and storm the building.
Pictures posted on Twitter also show protesters spraying paint over the sidewalks in front of the parliament, as some of them call the current unrest a new 'color revolution.'
Demonstrators organized a stage at the square in front of the Parliament where activists are expected to deliver speeches, with Macedonian patriotic songs resonating from the speakers, MKD News reports.
The protesters demanded that President Gjorge Ivanov reverse his decision to pardon the figures accused of crimes against the state. The pardoned officials' charges include election violations, wiretapping and illegal business deals.
Activists also demand the rescheduling of the next parliamentary elections from June 5 to a later date, as well as calling for a technocratic government to be reformed.
Protests over the amnesty scandal have been taking place daily over the past week. Similar rallies have been held in nine cities across the republic.
On Friday, leaders of the main Macedonian parties are to meet in Vienna, where they are expected to discuss possible solutions to the political crisis that has enveloped the Balkan nation.
Meanwhile, a source in the European Union, who requested anonymity, told Reuters news agency the EU is ready to consider the possibility of introducing sanctions against the Macedonian politicians, who, in his words, are unable to properly deal with the political crisis in the country.
"We are extremely concerned about the short-sightedness of the current [Macedonian] government. The EU is ready to consider [the possibility] of sanctions against politicians who impede on resolving the crisis. Macedonia is moving along the path of international isolation," the source is cited by Reuters as saying.
According to the representative of the European Union, in order to continue negotiations with the EU, Ivanov has to reverse his decision on pardoning the participants of the wiretapping scandal.
You can share this story on social media: